Beading Divas November/December fundraising partner is Equine Voices Rescue & Sanctuary (EVRS), a 501 (c)(3) non-profit equine rescue organization located in Amado, Arizona. EVRS' mission is to rescue equines from neglect, abuse, abandonment, and slaughter. They rehabilitate, adopt, or provide a safe and loving sanctuary to equines who need a forever home.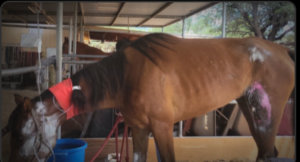 In August of 2022, a young horse was found clinging to life amongst discarded pets and trash in an area south of Tucson airport known as Dogpatch. At the young age of 2½ years, the part Arabian filly had been dumped by her heartless owners and left to die. Fortunately, friends of Karen Pomroy, Founder and Executive Director of Equine Voices, happened upon the injured horse and called Karen immediately. Grateful for the kindness, food and water she was given, the abused, skeletal horse was loaded into a trailer and taken to the sanctuary ready to begin her fight for life. The filly had a faint star on her forehead that looked like angel wings, so she was named Angelique.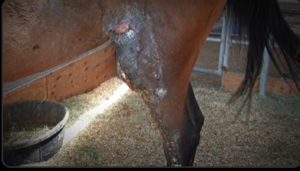 Once back at the ranch, she received an examination from the team at Adobe Veterinary Center in Tucson. They reported shocking news; they believed that Angelique had been dragged behind a vehicle or hit by a car, resulting in horrific injuries to her face and left hind leg. With a road map of scars and 400 pounds underweight, this shattered girl had a long way to go before she was out of danger. Angelique's grievous wounds required more intensive care than could be done at the sanctuary. The Adobe vets recommended she be transferred to Arizona Equine Medical and Surgical Centre in Gilbert, Arizona. After 5½ weeks of medical care, including a skin graft on her leg and acclimation to human interaction, Angelique came home to EVRS where Karen and her dedicated staff and volunteers promised the sweet filly she would never be abused again. With abundant nourishing food, medical care and loads of love, this young girl has bounced back to life with radiance sparkling from her eyes, warming the hearts of those who care for her. Without the devotion of Karen and her crew, this beautiful life would have been lost. But the level of care Angelique needs comes with a hefty price tag. With the current state of the economy, the price for hay alone has risen from $6,400 per truckload to over $12,000 every 5 weeks.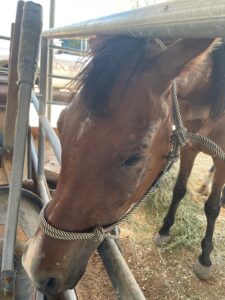 You can help EVRS rescue more equines like Angelique by purchasing one-of-a-kind, handcrafted Beading Divas bracelets.
Cost per bracelet is $20. The bracelets make great gifts any time of year!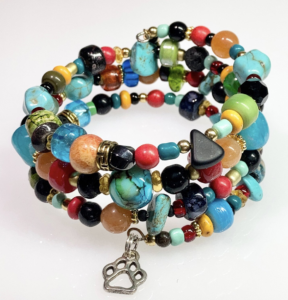 The best selection is online via Etsy but in Tucson you can also buy bracelets at Fuchsia Spa in La Encantada Shopping Center, and Silver Sea Jewelry, in the historic 4th Avenue Shopping District. Silver Sea is open Tuesday-Sunday from noon-6pm, and Gulliver and Friends Boutique in Tubac, Arizona (open Thursday – Sunday 11am to 3pm).