Beading Divas November/December fundraising partner is Equine Voices Rescue & Sanctuary (EVRS), a 501 (c)(3) non-profit equine rescue organization located in Amado, Arizona. EVRS' mission is to rescue equines from neglect, abuse, abandonment, and slaughter. They rehabilitate, adopt, or provide a safe and loving sanctuary to equines who need a forever home. Through education, they empower individuals to learn about Premarin and horse slaughter. Premarin is a drug derived from hormones in PREgnant MAre uRINe. Foals born to these mares are unwanted by-products and usually sent to slaughter. The horses, mules, and donkeys making up the various herds located on the Jumpin' Jack Ranch have been rescued from Premarin operations, kill pens, Pony Skin farms, and abandonment. EVRS, an award-winning organization, provides these unwanted horses, donkeys and mules a forever home with all the food, love and care they need to live long, happy lives. Many have been adopted by families looking for their next best friend. EVRS is always there for the horses who have graced their pastures.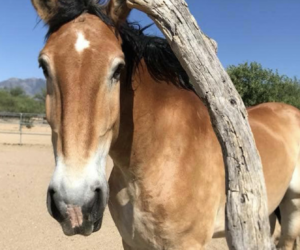 Meet GULLIVER! I was eleven months old and one of seven foals that lived in a pasture on a Premarin farm in North Dakota. My owner had gone out of business because he lost his contract with Wyeth Pharmaceuticals, the company that makes the drug Premarin. I was at the highest risk of going to slaughter. Everyone thought I was big and ugly! When Karen Pomroy, Founder and Executive Director of EVRS, decided to start her rescue, she chose me to be her special ambassador and mascot! I am now 20 years old, measure 17.2 hands and weigh over 1,600 pounds!
You can help EVRS rescue more equines like Gulliver by purchasing one-of-a-kind, handcrafted Beading Divas bracelets.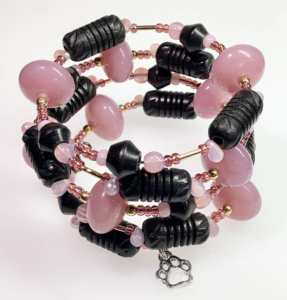 Cost per bracelet is $20. The bracelets make great gifts any time of year!  The best selection is online via Etsy but in Tucson you can also buy bracelets at Fuchsia Spa in La Encantada Shopping Center, and Silver Sea Jewelry, in the historic 4th Avenue Shopping District. Silver Sea is open Tuesday-Sunday from noon-6pm, and Gulliver and Friends Boutique in Tubac, Arizona (open Thursday – Sunday 11am to 3pm).