September and October bracelet sales benefit Rescue Me Tucson (RMT), a 501(c)3 non-profit formed to operate a collaborative-based pet adoption center. Located at Suite 902 – Tucson Premium Outlets in Marana, they help multiple Tucson and Southern Arizona rescues and shelters provide consumers with a compassionate alternative to pet stores selling mill-bred puppies and kittens and help rescue animals find their forever homes. RMT's model is based on the Best Friends No Kill Center in Los Angeles. Here is their story of how they helped Carmen find a home: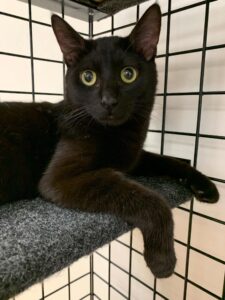 Did you know black cats are often overlooked at the shelters? Maybe it's the stigma of "black cats are bad luck" that deters potential adopters from seeing the true beauty of a black cat. Here at Rescue Me Marana we believe these beautiful house panthers are actually good luck! And lucky for volunteer favorite Carmen, her family believes the same.
Carmen was our longest stay in the feline department, she quietly waited in her nook, window watching and dreaming of her forever family. Carmen was a little, well, particular in who she liked in her company. We knew the right family was out there for her. After several months her family came in a few times to visit her; they were also watching closely on social media and falling in love with her. Carmen's big day came when her family took her home! They quickly realized Carmen would be queen of her castle and affectionately renamed her Little Miss Chloe. We couldn't be happier for Chloe or her new family! Here is what her adopter has to say: "Little Miss Chloe (formerly Carmen) has been an absolute delight! She's really grown into her role of keeper of the house, and she definitely has us wrapped around her little paws! Thank you so much Rescue Me Marana for bringing her into our lives!"
Rescue Me Marana says: Thank you for taking a chance on a black cat and inviting many more years of good luck!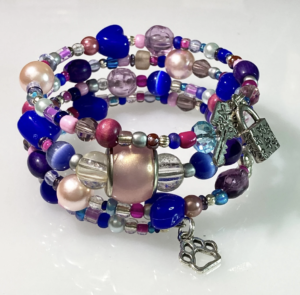 You can help Rescue Me Tucson rescue more deserving pets like Chloe by purchasing one-of-a-kind, handcrafted Beading Divas bracelets.
Cost per bracelet is $20, with no tax. The bracelets make great gifts any time of year!  The best selection is online via Etsy but in Tucson you can also buy bracelets at RMT's Adoption Center Suite 902 – Tucson Premium Outlets in Marana, Fuchsia Spa in La Encantada Shopping Center, and Silver Sea Jewelry, in the historic 4th Avenue Shopping District. Silver Sea is open Tuesday-Sunday from noon-6pm (masks and social distancing required.)