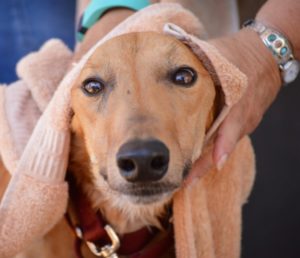 Live greyhound racing ends in South Tucson on June 25.
As of June 18, 165 hounds have left Tucson Greyhound Park since April 1, 2016, to begin their journey to forever homes.  So far all of the available hounds have been picked up by adoption groups.
Next week, 40 hounds from one kennel will be transported by an Oregon adoption group and disbursed to a variety of groups in California, Oregon and Washington.  25 hounds from the remaining kennels have been identified as available at closure.  All 25 have been reserved by Arizona adoption groups.
There are a few hounds whose status is still unknown as to whether or not these dogs will be pet out or continue racing at other tracks; that will be determined this week.  The Arizona groups should be able to absorb those hounds, so any additional hauls out of state are not anticipated.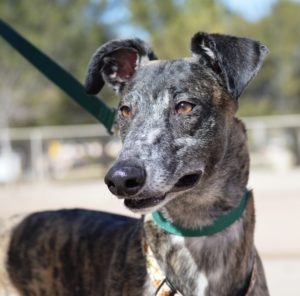 Southern Arizona Greyhound Adoption has taken in 39 hounds since April 1; 16 of which were ill or injured. For May, even with the steep discounts, the vet bill was $ $8,223.62. This week SA Greys welcomed 4 hounds, 3 who were injured.  SA Greys also reserved 6 hounds who will be available at closure and more if they become available.
Beading Divas to the Rescue felt compelled to help raise funds for greyhounds needing forever homes during this crucial time. Please help SA Greys any way you can whether buying bracelets, making direct donations, through foster care, networking their needs and adopting a couch potato.
These greyhounds are so very close to the final finish line – they just need a little help – your help — to get there.
There are two fundraisers happening – Good Things Come in 3s Party on June 25 and Tea Tasting on June 26.