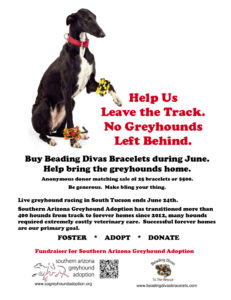 Southern Arizona Greyhound Adoption (SA Greys) is in the thick of things as live racing comes to an end at Tucson Greyhound Park on June 24. They have been working closely with other groups as well.
SA Greys has already taken in more than 24 dogs from the track since April 1, and are now upping the pace by taking about four dogs per week. At least 8 of these dogs have injuries or illnesses. Their goal is to take another 20 dogs by the end.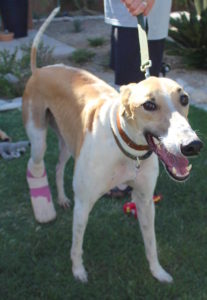 Significant Expenses
Taking so many dogs at once means there will be increased veterinary fees, boarding expenses and supplies. Greyhounds traditionally go from the track to a greyhound boarding facility for intake, bath, flea and tick treatment while awaiting neuter/spay surgery and a foster home.
Volunteers Wanted
Now more than ever, SA Greys is seeking volunteers for new foster homes, people who can transport dogs to veterinary appointments and donations to help achieve the goal of Leaving No Greyhounds Behind. Check out the website for available dogs, how to volunteer and to make donations.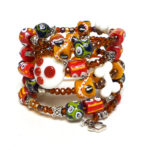 Buy Bracelets
Buy bracelets, lots of beautiful bracelets. An anonymous donor is matching the first 25 bracelets sold ($500) online via Etsy.
You can also buy bracelets at these fine local merchants: (call for hours)
–-Silver Sea Jewelry & Gifts, 330 N. 4th Avenue, 624-9954, meter parking until 5 PM M-F
–-Clues Unlimited Mystery Book Store, 3146 E. Fort. Lowell Road, 326-8533
–-A K Jensen Apparel, (St. Philips Plaza), 4340 N. Campbell Ave., Suite 72, 529-2775
–-Spa Daze, 6812 N. Oracle Road, #100, 334-1919
–Birdhouse Yarns, 2540 E. 6th Street, 305-4187  (June only)
–Briarcrest Veterinary Clinic,7313 E Tanque Verde Rd, 298-4123 (June only)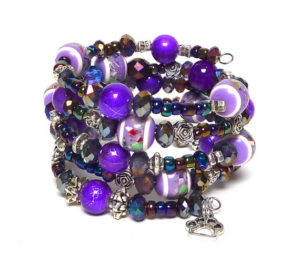 Greyhound volunteers have done a sterling job finding venues and events for where to sell bracelets around town in June so check out more opportunities:
June 4 – Heirloom Farmers Market, 8am -12pm @ Steam Pump Ranch, 10901 N Oracle Rd
June 5 – Heirloom Farmers Market, 8am -12pm @ Rillito Park, 4502 N 1st Avenue
June 10 – Hamburger Stand, 5-7pm @ 1710 W Valencia Road, buy a bracelet & receive a free ice cream cone
June 11 – Wienerschnitzel – 5-7pm @ 1401 S Kolb Road, buy a bracelet & receive a free ice cream cone
June 12 – 2-4pm, Board Meeting for Southern Arizona Greyhound Adoption, @ Murphy-Wilmot Library, 530 N Wilmot
June 17 – Paws & Pints, 7-9pm @ Trail Dust Town, 6541 E Tanque Verde Road
June 25 –  Beading Divas Party, 4-7p @ The Shelter Cocktail Lounge, 4155 E. Grant Road, no cover charge, 21+, raffles & silent auction, bead drive/donate beads, drink specials, celebrity bartenders, surprises, buy a bracelet & receive a free raffle ticket  (Save the Date!)
June 26 – Tea Tasting Fundraiser, 10a-12p @ Seven Cups Chinese Tea House, 2615 E 6th Street, cost is $20/pp, guided tea tasting, raffle prizes