The Beading Divas September/October fundraising partner is
SOS Cat Rescue.
 SOS stands for "Saving Orphans and Seniors." They are a 100% volunteer-run, foster-based, no kill, 501(c)(3) non-profit animal rescue group based out of Tucson, AZ, dedicated to saving orphan kittens and senior cats from shelters across Arizona and giving them a second chance for a "happily ever after" life by matching adoptable kitties to the right homes. Here's a story from one of their rescued cats named "Jade":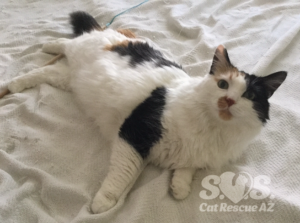 My name is Jade and I'm a fluffy senior girl with a loud purr and catitude. I'm one of the older cats here at SOS Cat Rescue AZ and one of the long-timers. I'm believed to be 18 years old and I entered the rescue in 2017. I was not a happy and loving kitty, as my human of many years just dumped me which left me confused and a tad bitter. I lashed out at many people so the rescue decided to make me a permanent foster.
First believed to be an overweight cat, I was placed on a diet by our rescue vet, which made me grumpy and unhappy. A year later and 4 lbs lighter we found that I would be your friendly hyperthyroid kitty. I'm on daily medication and much happier. Unfortunately, the meds – while helping with my thyroids – are not kind to my kidneys. I'm glad I'm in the care of loving foster parents and a rescue willing to pay for my meds. It would be wonderful if you'd buy a bracelet or two to help pay for my medication and blood work.
If you saw Creampuff's dental story in the last post, you might want to know that his dental costs are ~$700 and my daily medication and bloodwork comes up to around $900 a year. Each and every bracelet you kindly buy for yourself or as a gift WILL make a difference.
Thank you for reading my story.
~Jade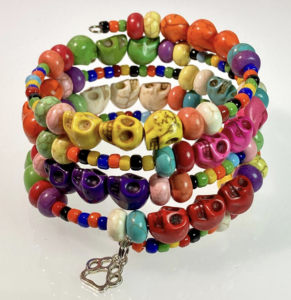 You can help SOS Cat Rescue find homes for more deserving pets like Jade by purchasing one-of-a-kind, handcrafted Beading Divas bracelets.
Cost per bracelet is $20. The bracelets make great gifts any time of year!  The best selection is online via Etsy but in Tucson you can also buy bracelets at Fuchsia Spa in La Encantada Shopping Center, and Silver Sea Jewelry, in the historic 4th Avenue Shopping District. Silver Sea is open Tuesday-Sunday from noon-6pm.