We are happy to announce that our May/June fundraising partner is
GreySave
, a greyhound adoption and support group in Southern California. GreySave's primary mission is to rescue and adopt retired greyhounds from the Caliente Dog Racetrack in Tijuana, Mexico. Here is a story about an unusual rescue they took part in: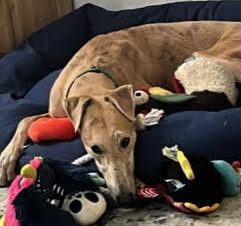 Last December we got a call about a special rescue of a group of greyhound mixes. These dogs had fallen out of a pickup truck, onto a freeway in downtown LA. Some of the dogs had been picked up by astonished freeway travelers and others by Highway Patrol. Four dogs were still missing. Our "greyt" volunteers immediately jumped into action, searching local neighborhoods and putting up flyers. Over the next couple days, all but one dog had been found. By the end of the week, we had retrieved the hounds that had gone to a shelter, and put 10 greyhound mixes into foster homes. We worked with a group in northern California who take non-racing greyhounds to get all the dogs adopted. The last dog we found turned out not to be a greyhound at all. His name is Timmy, and he is a Belgian Malinois, German Shepard and Great Pyrenes mix. Timmy had very different training needs than a greyhound does, so we hired trainers for him and he was adopted a week ago. This unique and memorable mission is one we never ever thought we would have but our volunteers took it on and 11 hounds were ultimately rescued.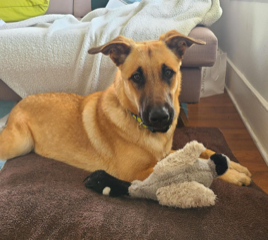 You can help GreySave Friends find homes for more deserving pets like Tallahoula and Timmy by purchasing one-of-a-kind, handcrafted Beading Divas bracelets.
Cost per bracelet is $20. The bracelets make great gifts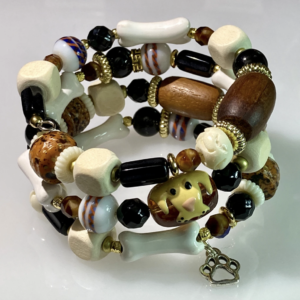 any time of year!  The best selection is online via Etsy but in Tucson you can also buy bracelets at Fuchsia Spa in La Encantada Shopping Center, and Silver Sea Jewelry, in the historic 4th Avenue Shopping District. Silver Sea is open Tuesday-Sunday from noon-6pm (masks and social distancing required.)