Just a few days left in April for bracelet sales to benefit Cody's Friends! Cody's Friends is a 501(c)3 non-profit started by Cody Allen in 2011 when he was 10 years old. Cody's Friends supports the crucial bond between human and animal welfare. Those in need will do all they can for their pet…even if it means giving up their own food. Thousands of people in need in Pima County depend on Cody's Friends for pet food. Over 48 human service agencies and 100+ animal rescue groups and shelters also come to Cody's Friends for pet food and supplies.
This graphic shows some of the agencies that are helped by Cody's Friends: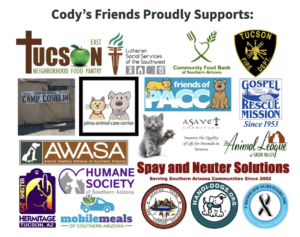 Below is Tucson Fire Department firefighter and paramedic Sue, who comes to Cody's Friends for donated pet food and supplies that  they then distribute to the impoverished through their TC3 Program.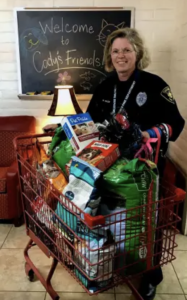 You can help Cody's Friends provide food for more deserving pets by purchasing one-of-a-kind, handcrafted Beading Divas bracelets.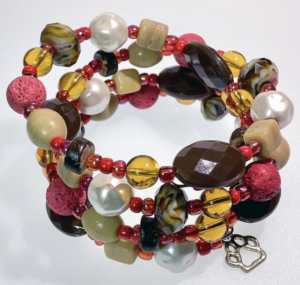 Cost per bracelet is $20. The bracelets make great gifts anytime of year!  The best selection is online via Etsy but in Tucson you can also buy bracelets at Fuchsia Spa in La Encantada Shopping Center, and Silver Sea Jewelry, in the historic 4th Avenue Shopping District. Silver Sea is open Tuesday-Sunday from noon-6pm (masks and social distancing required.)