July and August bracelet sales benefit Tucson Rescue Now (TRN), a nonprofit organization dedicated to adopting Senior Dogs into happy and loving homes. TRN brings senior dogs from local shelters to their adoption site at La Encantada shopping center, 2905 E. Skyline Drive. For more information, visit http://tucsonrescuenow.org/. Here's a sweet story about an older dog adopted with the diligent help of TRN: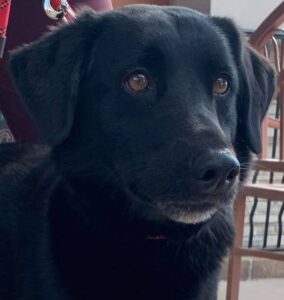 Oliver, a 'young' senior arrived at the county shelter as a stray and then came to TRN in search of a new home. He bounced around a few times and we couldn't figure out how this sweet dog could not find his forever home. He needed a place where someone is home a lot, where there are kids (he ADORES them) and another dog to play with. And just like that, this sweet family showed up.
When Ollie met their resident dog, they were indifferent to each other, but he immediately loved the mom and kids. Ollie was a bit scared of dad at first. While he played with his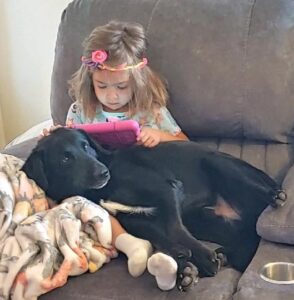 new furry brother, the kids doted on him. Ollie finally decided that Dad is terrific, and he loves that Mom is home so much. This family is so amazing – the two young boys decided that instead of birthday gifts, they wanted everyone who came to their party to bring items to donate to all the other doggies at TRN waiting to find their own forever homes. We could not have imagined a more perfect forever for Oliver; he chose the very best family!
You can help Tucson Rescue Now rescue more deserving dogs like Ollie by purchasing one-of-a-kind, handcrafted Beading Divas bracelets.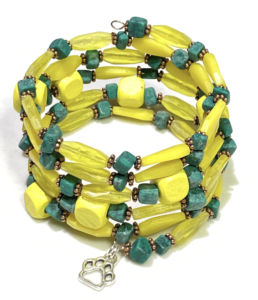 Cost per bracelet is $20, with no tax. The bracelets make great gifts any time of year!  The best selection is online via Etsy but in Tucson you can also buy bracelets at Tucson Rescue Now (11:00 AM to 3:00 PM Thursday to Sunday) in La Encantada Shopping Center, Fuchsia Spa in La Encantada Shopping Center, and Silver Sea Jewelry, in the historic 4th Avenue Shopping District. Silver Sea is open Tuesday-Sunday from noon-6pm (masks and social distancing required.)