October and November bracelet sales benefit No Kill Pima County. NKPC is working to end the needless killing of shelter animals in Tucson and Pima County through rigorous implementation of the No Kill Equation, a life saving alternative that replaces killing. Read more about NKPC here: https://www.nokillpimacounty.org/.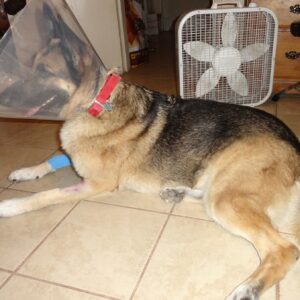 Dusty is one of many dogs who have needed help in recent months. Vito, who is disabled and depends on Dusty to help him with mobility, wasn't able to afford surgery that Dusty needed. He sold some of his own belongings, but it wasn't enough. NKPC and two other organizations pitched in to fill the gap and make sure he was taken care of. Vito wrote us this letter the day after Dusty's surgery: "Dusty did well, and I am babying him now. He's not too happy about the cone, but I give him a few breaks under close supervision. He's my best friend, and yesterday was the first time we have been more than a couple of feet apart! There is nothing I wouldn't do for him."
So far, we have helped well over 200 dogs and cats this year, and the need is only increasing. NKPC can only assist families like these with the support of our community.
You can help deserving pets like Dusty by purchasing one-of-a-kind, handcrafted Beading Divas bracelets.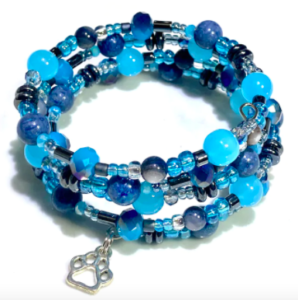 Cost per bracelet is $20, with no tax. The bracelets make great gifts any time of year!  The best selection is online via Etsy but in Tucson you can also buy bracelets at Fuchsia Spa in La Encantada Shopping Center and Silver Sea Jewelry, in the historic 4th Avenue Shopping District. Silver Sea is open on Thursdays by appointment only (call or send a private message via Facebook), Friday and Saturday from noon to 6 pm (masks and social distancing required) and Sundays for live online shopping starting at 4 pm (MST). Bracelets are not for sale during live online shopping, but other fabulous jewelry is available.