October and November bracelet sales benefit No Kill Pima County. NKPC is working to end the needless killing of shelter animals in Tucson and Pima County through rigorous implementation of the No Kill Equation, a life saving alternative that replaces killing. Read more about NKPC here: https://www.nokillpimacounty.org/.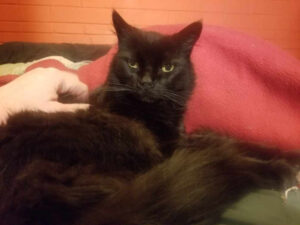 Valkea's mom adopted her as a stray kitten seventeen years ago. She said, "Valkea started to show signs of illness, several months after I lost my job during the pandemic. I worried so much about her and want to make sure she lives her best life, but I wasn't able to cover all of the necessary costs of a vet visit."
That's where No Kill Pima County came in. We were able to help get Valkea seen and on a treatment plan to help. After starting on medications, Valkea started to gain weight and get her old energy back. "My girl feels like her old bright-eyed self again," her mom said. "At her age, I expected the worst, and while I know I can't predict the future, it's just so good that she feels better."
"This has been a huge relief for me," she continued, "and I'm sure for her as well. I cannot thank everybody who donates to No Kill enough for putting her on the path to a longer, happier life."
You can help deserving pets like Valkea by purchasing one-of-a-kind, handcrafted Beading Divas bracelets.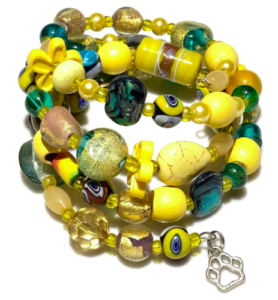 Cost per bracelet is $20, with no tax. The bracelets make great gifts any time of year!  The best selection is online via Etsy but in Tucson you can also buy bracelets at Fuchsia Spa in La Encantada Shopping Center and Silver Sea Jewelry, in the historic 4th Avenue Shopping District. Silver Sea is open on Thursdays by appointment only (call or send a private message via Facebook), Friday and Saturday from noon to 6 pm (masks and social distancing required) and Sundays for live online shopping starting at 4 pm (MST). Bracelets are not for sale during live online shopping, but other fabulous jewelry is available.