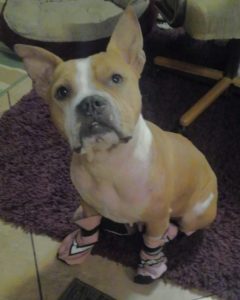 Lovar received a plea directly from an overflowing county shelter who were out of options for Munchkin, a special needs dog who stole the hearts of shelter volunteers.
Munchkin faced being put down three times and would not get a 4th chance. Her special needs included severe skin issues and despite tests, treatments and specialty diets, it was uncontrollable causing her to constantly scratch and itch until she was a bloody mess.
Lovar got right down to treating her skin challenges with a combination of treatments for sarcoptic mange, topical treatments and ivermectin injections then prednisone, simplisef and medicated shampoo baths weekly to control fungal and bacterial infections. Lovar used steroids for immediate control and the booties helped prevent scratching plus they added an elimination diet and apoquel .
Munchkin's torturous itchy body days were over and her hair loss gave way to a beautiful soft coat and healthy skin.
Munchkin has now started her new life with a wonderful family in Saddlebrook.
Locally, you can buy bracelets at: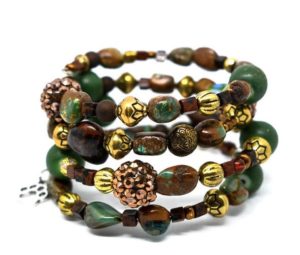 Fuchsia Spa in La Encantada on the northwest corner of Campbell & Skyline, 2905 E. Skyline Dr, #129. Cash only.
A limited number of bracelets are still available at Clues Unlimited which is open Monday – Thursday from 10 am to 2 pm (call to doublecheck hours/days) + Small Business Saturday on Nov. 28 from 10 am to 4 pm. Curbside pickup is available during these times and browsing will be limited to appointment only. Cash only.
Currently, Silver Sea Jewelry, the original home of Beading Divas bracelets, is now still closed because of the covid outbreak but follow on Facebook for store updates and their Sunday online shopping network.