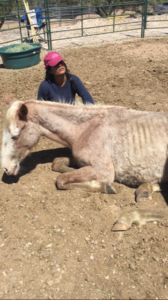 Karuna Horse Rescue in Tucson comforts and cares for horses in need.
Floyd came to Karuna Horse Rescue so emaciated that he could not bear his standing weight and often laid down to rest. This gorgeous Tennessee walking horse was dumped into the system because he is a hermaphrodite and a cryptorchid horse, meaning Floyd has female and male external genitalia as well as gonads that did not descend.  This rare condition required an expensive surgery in order to geld Floyd and keep him healthy. He is one of the 4 Originals at Karuna and is the Boss (stallion) of the herd. Today, people marvel over Floyd's stunning poise and beauty, his effervescent personality and his amazing intellect. Floyd establishes meaningful relationships with all the Karuna humans as well as each and every new rescue.  He is majestic beyond belief and embodies the Karuna Way.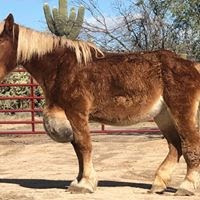 Arya  lived in sanctuary at Karuna Horse Rescue for a very short while.  Used and abused in her life as a Belgian-mix draft horse, Arya developed systemic cancer as well as fungal infections that presented as massive tumors all over her body.  She was left in this condition for 10+ years without care or medicine. Karuna rescued her in time to give her a few precious days of love and compassion before she died peacefully. From the moment she arrived, Arya softened and accepted all forms of care and love.  Her eyes were always gentle and her movement easy-going, as we tried every avenue to give her comfort and healing.
BUY BRACELETS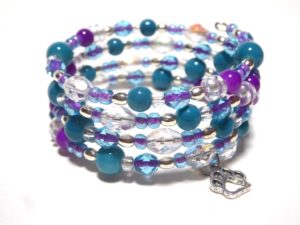 Buy handcrafted beaded bracelets made with donated beads and a dangling paw charm. Bracelets cost $20/no tax. Bracelets can be purchased on Etsy and shipped worldwide. You can also buy bracelets locally in Tucson at:
–-Silver Sea Jewelry & Gifts, 330 N. 4th Avenue, 520-624-9954, meter parking until 5 PM M-F, free parking weekends
–-Clues Unlimited Mystery Book Store, 3146 E. Fort. Lowell Road, 520-326-8533, free parking (call for hours)