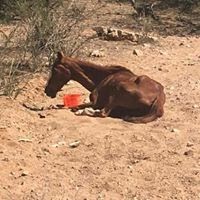 March has been and continues to be a challenging month. We hope you and yours are well.
HORSES
Our rescue of the month is Karuna Horse Rescue here in NW Tucson. They make amazing efforts to rescue and rehabilitate and find sanctuary for injured, neglected and abused horses.
Old Man Gene lived nearly a year at Karuna after a long hard life as a cowboy horse, who was dumped in the desert to die.  They found Gene down in a rocky terrain during June, dying of thirst, starvation and multiple wounds. Poverty and hardship often rob horse owners of giving their animals a dignified end of life, and sadly, abandonment is not uncommon.  Initially the intention was to restore Gene to a level of comfort so that he could die in peace.
Miraculously, Gene lived. He embraced daily wound and body care, specialized nutrition and exercise and integrated his way into the herd as a respected elder. Near the end of his life, Gene enjoyed precious moments with Candice, laying his head in her lap and feeling very loved. Gene's Shelter remains as a tribute to our belief that Karuna's love heals and that we can do better by these beautiful beings who have served humanity for centuries.
Buy bracelets online
You can buy one-of-a-kind Beading Divas bracelets online via Etsy or make a direct donation. Please like and share Karuna's Facebook page to promote their good deeds.
MERMAIDS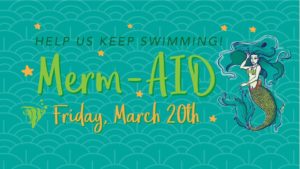 Beading Diva and board member for the past 11+ years Lizzie Mead is the owner of Silver Sea Jewelry on historic 4th Avenue. If you're local to Tucson, you know the 50th anniversary of the 4th Avenue Street Fair has been cancelled. This event is a huge moneymaker for local artisans and businesses and the fair's sales often carry small businesses through the long hot summer when sales generally take a nose dive.
Since these businesses are shuttered now, they need to think virtually. Today – Friday – March 20th – Silver Sea Jewelry is turning into a miniature home shopping network (with live entertainment) starting at 11 AM to 7 PM so be sure to tune in LIVE and make your purchases and tell your friends.
PLUS: free local shipping, and free priority mail domestic with purchase of $100+
This sale is to support the basic needs of the shop, and to pay their wonderful Sirens for the wages they would have lost for the canceled fair. Taking care of employees is super important to us!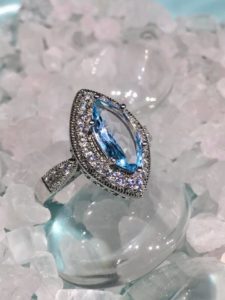 There will be big beautiful rings, hot trend jewelry, stone pendants, turquoise, necklaces, earrings, shanty sea treasures, Pure Poetry Cosmetics, hand-crafted jewelry, simply charms, etc.
MORE                                                                                            
We want to give a shout out to Michelle (former longtime board member). She was supposed to be at the 4th Avenue Fair too so check out her two Etsy stores – Chella Bella Designs and Greyt Escape dog accessories.
---
For now, our hope for all of you is to stay home with your family, both 2-legged and 4-legged and of course, a few of those tripods. Studies show that the love of companion animals reduce stress and contribute to overall human health.
With gratitude…The Beading Divas