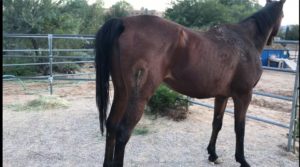 For March, Beading Divas Bracelets is excited to have Karuna Horse Rescue as their fundraising partner.
Karuna Horse Rescue is a local equine rescue, rehabilitation center and sanctuary situated in the Twin Peaks area of Tucson. They rescue horses from abandonment, neglect and cruelty. Their philosophy of rehabilitation integrates veterinary care, holistic protocols and compassionate relationships with caretakers. Karuna educates the community about the issues facing horses today, herd dynamics, as well as nurturing connections with these majestic beings.
Finn is a retired thoroughbred race horse, dumped into the system after he was crippled from overuse. He made his way to a temporary shelter that could not provide adequate care.  At some point, he ran against a tree, and a sizable piece of wood lodged into his hip and festered for over 3 months. By the time Karuna was called to the scene, Finn's hip was rotting, and his situation dire.
Follow Karuna Horse Rescue on Facebook
Fortunately, an emergency surgery and months of daily rehabilitation saved Finn's life and restored enough mobility to enjoy his remaining years. Finn's recovery is a miracle – his chances were so slim; Karuna was mostly hoping to give him some peaceful months to live out his life.  Yet, Finn continues to heal and enjoys a quality life with the Karuna Herd through sustained care and love. His spirit is gentle and sweet, and he captures the hearts of everyone he meets.
BUY BRACELETS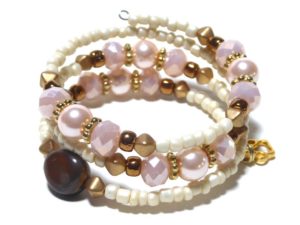 Buy handcrafted beaded bracelets made with donated beads and a dangling paw charm. Bracelets cost $20/no tax. Bracelets can be purchased on Etsy and shipped worldwide. You can also buy bracelets locally in Tucson at:
–-Silver Sea Jewelry & Gifts, 330 N. 4th Avenue, 520-624-9954, meter parking until 5 PM M-F, free parking weekends
–-Clues Unlimited Mystery Book Store, 3146 E. Fort. Lowell Road, 520-326-8533, free parking (call for hours)