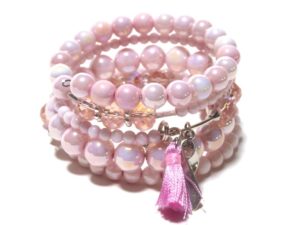 SAFE (Saving Animals from Euthanasia) is a 501(c)(3) non-profit organization based in Tucson, AZ and is deeply committed to developing a comprehensive community-based resolution to the euthanasia of adoptable companion animals. You can learn about them at http://safeanimals.com
This bracelet is called – Pearly Pink. Are you a pinky kind of gal? Soft and feminine? In other words if pink ranks highly in your color spectrum — If you like the bracelet, buy it – one of a kind — when the bracelet sells, it's gone and cannot be recreated.
All bracelets are handcrafted by volunteers, one-of-a-kind and made with donated beads. Bracelets cost $20, no tax. SAFE receives $20 for every bracelet they sell person to person and $18 for every bracelet sold online. Postage is based on destination. Bracelets are mailed worldwide.
From the Feedback File: 5-star review: " Love my groovy mainly purple bracelet and love that my purchase benefits animal charities." ~  Sara B.