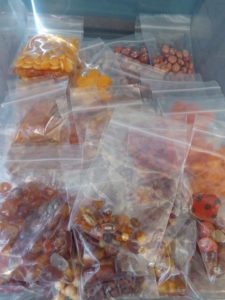 Toot! Toot! Here's some self-promotion: According to Etsy, Beading Divas bracelets have
sold more than 4,000 bracelets online!
Thank you.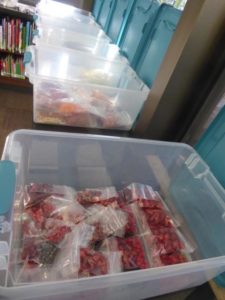 In order for the Beading Divas to be successful, a few things need to be in place such as many creative volunteers, a hard-working board, enthusiastic animal charity recipients, hundreds of supporters (that's you) and millions of donated beads.
Now about those beads…where are they? Beads have been known to be stashed in the board members' closets and cabinets and some overflow in commercial storage. And two zealous board members — Lizzie and Mary Jo — have spent hours and days sorting them.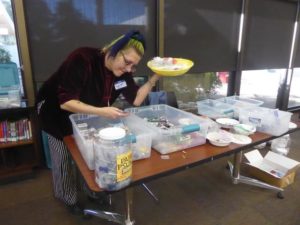 Instead of plan A relying on two people with uber busy lives,
someone had the bright idea
to have a bead sorting bonanza and invite the bracelet-making regulars and some other willing participants to — sort beads.
"Lizzie and her friend Anita set up a system, said Mary Jo. "We had many new helpers from
Moon and Stars Animal Rescue
(Oct 2019 recipient). They loved it and want to come to bees. The room was filled with energy."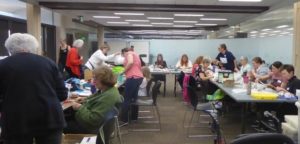 Angy added, "While we were cleaning up, the volunteers told us how much fun they had. We were all moved to see so many volunteers come together to help. It was a great day and very successful."
(Photos by K. Loren Dawn)