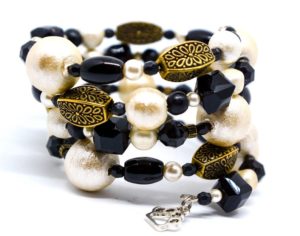 Southwest Oasis Labrador Rescue responds to requests for help from shelters, aid in the recovery of lost/abandoned Labradors and accept owner surrenders.
They carefully place Labradors into foster care. While in foster care, the dogs receive any medical treatment needed and are microchipped. This most often consists of spaying or neutering, updating vaccinations, testing for heartworm, tick and valley fever and treatment of whatever medical issues are deemed necessary and treatable.
Athena — a SOLRAZ dog was just in the news! Read her amazing story about a donated prosthetic leg. Thank you KVOA.                                             
This bracelet is called – Gemini. Geminis are easy going, enthusiastic, impulsive and intelligent. In other words — If you like the bracelet, buy it – one of a kind — when the bracelet sells, it's gone and cannot be recreated.
All bracelets are handcrafted by volunteers, one-of-a-kind and made with donated beads. Bracelets cost $20, no tax. Southwest Oasis Labrador Rescue receives $20 for every bracelet they sell person to person and $18 for every bracelet sold online. Postage is based on destination. Bracelets are mailed worldwide.
From the Feedback File: "Gorgeous bracelet! Great way to support various animal rescue groups. Win-win for all involved. Thanks!" ~  Debra