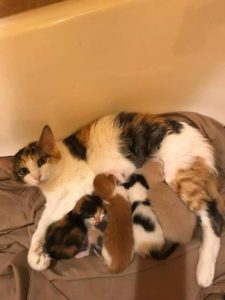 As told by Moon and Stars
This was the first time I fostered a pregnant cat.  The women who brought her said it would be a couple of weeks until birth. That weekend I was flying to Dallas and my husband would be the caretaker.
(Please LIKE their Facebook page.)
Patches gave birth the morning of my return.  My husband went to check and there were five kittens born in the litter box.  All the kittens were still attached to the placenta except for Reese.  My husband quickly picked up the kittens and put them in the sink where he cut cords and washed them as best he could, while at the same time Patches was climbing up his leg to take back her babies. He gently returned them to Patches and she finished cleaning and feeding.
Unfortunately, Patches was a young, inexperienced mom and while cleaning the littlest one Gracie, she chewed off her foot.  Gracie's leg did become infected at one point but with treatment healed nicely.
All the kittens grew and became stronger over the next few weeks.  Reese, the largest kitten, got ringworm, which he shared with his brother Niles and sisters Sage, Faith and Gracie.  I spent three weeks of dipping and thoroughly cleaning their room and in July, they had a clean bill of health.
Patches is staying with another foster mom until she finds her forever home and Faith is waiting for her forever human. Reese, Niles and Sage all found loving adopters. As for Gracie, she is the newest member to our family and is a loving lap cat.
It is hard to see them go but knowing Moon and Stars Animal Rescue saved five kittens and their mom, is the greatest gift in the end.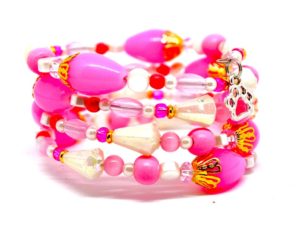 Dozens of handcrafted one-of-a-kind beaded bracelets with dangling paw charm await you on Etsy. Bracelets cost $20 and $18 of every sale are donated to Moon & Stars. Bracelets make great gifts for yourself and your fashionable animal-loving friends.