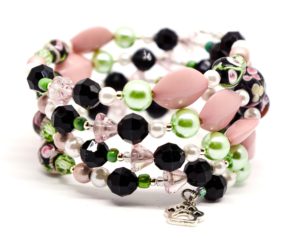 Moon & Stars Animal Rescue was founded in January 2019 in remembrance of a dear family member — Cindy Cannon, who passed away 09/11/2018. Her favorite things in life were the moon & stars. She was fun, funny and always thinking of others. Cindy Cannon spent her life helping others. She will be truly missed.
This bracelet is called –Deco Fantasy–. If you like the bracelet, buy it – one of a kind — when the bracelet sells, it's gone and cannot be recreated.
All bracelets are handcrafted by volunteers, one-of-a-kind and made with donated beads. Bracelets cost $20, no tax. Moon and Stars Animal Rescue receives $20 for every bracelet they sell person to person and $18 for every bracelet sold online. Postage is based on destination. Bracelets are mailed worldwide.
From the Feedback File: "Classic and beautiful. I love it!" ~  Christa