The world of greyhound rescue and the fundraising involved to save these special creatures – never ceases to amaze.
When Beading Divas began, we had no idea where this fabulous journey would take us and as most of you know…we no longer fund-raise for greyhounds only.
Before we started on the fundraising path, Northcoast Greyhound Support (not an adoption group) was an inspiration as it "fun-draised" for greys through online raffles and auctions with fabulously designed artisan jewelry.  Cara Brockoff began this endeavor in the year 2000 and so far, has raised more than $500,000 for mostly greyhound rescues in need!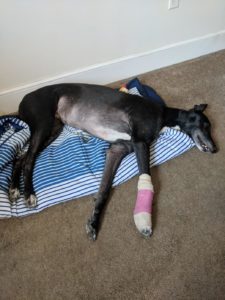 From what I can tell, by looking at her contributions page, as of this writing she has raised $562,000 and counting…as her final raffle is now in progress and you still have a chance to buy raffle tickets and raise funds (some matching included) for Greyhound Adoption League Texas (GALT) to help four deformed greyhound puppies from the same litter to have the specialized surgeries they need.
But wait there is more: GALT is on overdrive:
*Saturday: 8 greyhounds arrived from Kansas farms
* Sunday: 3 stag hounds, abandoned in Carnegie OK, came to GALT
*Monday: a tattooed stray arrived at GALT
* Wednesday: a blue & white stray from the streets of Argentina arrived
This raffle ends Nov. 4. Don't delay.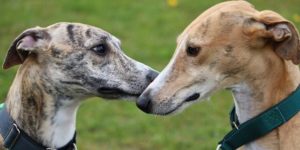 Our hearts and hats go off to Cara Brockoff and thank her for all she has done to help so many greyhounds. We hope Cara enjoys her "retirement" without weekly deadlines and timelines and fun-draising demands.  Does this mean Cara won't be coming to the Tucson Gem & Mineral Show anymore?
And, if you miss this last raffle, she is having a big sale around the holidays so bookmark her website.