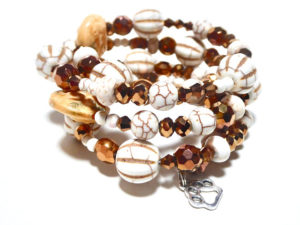 This pretty bracelet named "Grazie" has a crisp, clean vibe perfect with a summer sundress.
For April, Beading Divas bracelet sales benefit Green Valley Paws Patrol. Since April 2006, they have intake 4,021 cats; returned to colonies/bars 1,895; adopted out 1,294 and 143 cats have died or been euthanized. Love this transparency.
All bracelets are handcrafted, one-of-a-kind and made with donated beads. Bracelets cost $20, no tax. Paws Patrol receives $20 for every bracelet they sell person to person and $18 for every bracelet sold online. Postage is based on destination. Bracelets are mailed worldwide.
Please note: Bracelets online via Etsy have already been photographed, uploaded, wrapped and labeled. What's on Etsy stays on Etsy until someone buys it off Etsy. You cannot pick up an Etsy bracelet anywhere because the fulfillment is done by volunteers in private homes. If you like it, buy it – one of a kind — when it sells, it's gone.
In Tucson, you can buy bracelets at Silver Sea Jewelry and Clues Unlimited Mystery Bookstore.
From the Feedback File: "Perfect. Love what you do for charity." ~ Beverly K.