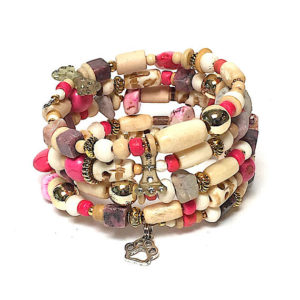 This bracelet is called "Dog Gone It" and was inspired by dogs (of course) and has two dog bone beads.
All bracelets are hand-crafted, one-of-a-kind and come with a dangling paw charm to commemorate our mission of helping animals. Each bracelet costs $20 (no tax). Shipping cost is based on destination; we ship worldwide.
For May, bracelet sales benefit Save the Pets AZ, a Tucson-based non-profit that has saved more than 4,000 Arizona pets since its inception and creates new beginnings for helpless animals.
From the Online Etsy Bracelet Feedback File: "Beautiful bracelets and an amazing cause! Keep up the great work!" ~Heather