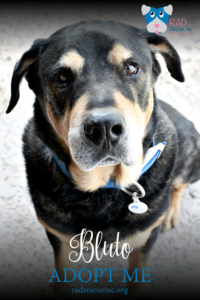 RAD Rescue LOVES its seniors. We feel there is no reason a treasured family pet should spend their final days, months or years in a shelter. Providing our senior dogs a loving foster home, a soft fluffy bed, and the best possible veterinary care is one of RAD's founding principles.
Bluto is a handsome and rugged 8 year old male Rottweiler mix. He is a calm, independent, napping, sunbathing senior who tips the scales at just over 100 lbs. Bluto knows sit, down, and "say please"; he walks well in a heel, rarely pulling and is non-reactive to other dogs and cats on his walks.
Typically, RAD Rescue provides food and necessary supplies to fosters, including crates; however, Bluto is rarely crated because he's shown zero destructive behavior and is completely house-broken. Because Bluto is a big guy and a bit more mature, we prefer him to go to a home with older, dog-savvy kids and he prefers the company of more mellow furry friends. He would be a perfect match for a couple or person that is looking for a friendly couch potato versus a jogging/hiking partner.
Senior medical care is not the cheapest but thankfully, Bluto has not required much more than minor joint supplements, a good diet and some regular exercise to keep him happy. Some of the RAD seniors are not as lucky as Bluto and require a substantial amount of care including surgeries, joint supplements, digestion aid, and pain management.
RAD senior dogs appreciate your tax deductible donations as do the volunteers running the rescue, allowing us to provide the level of care suitable for the kings and queens they are.
RAD Rescue will be at Adopt Love Adopt Local on Saturday April 15 from 9 AM to 4 PM. You can meet some of their dogs and learn more about all they do. You can also buy Beading Divas Bracelets. Look for a dazzling display at the Information table. Bracelets are one-of-a-kind, made with donated beads, cost $20 each (no tax) and come with a dangling paw charm.
You can also buy bracelets online and around town at these venues:
–-Silver Sea Jewelry & Gifts, 330 N. 4th Avenue, 624-9954, meter parking until 5 PM M-F, free parking weekends
–-Clues Unlimited Mystery Book Store, 3146 E. Fort. Lowell Road, 326-8533
–-A K Jensen Apparel, (St. Philips Plaza), 4340 N. Campbell Ave., Suite 72, 529-2775