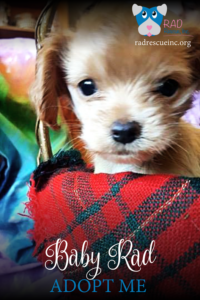 For April. Beading Divas to the Rescue is excited to be fundraising for RAD Rescue.
RAD Rescue was founded February 2016 and received 501c3 status in April 2016. RAD Rescue is a Tucson-based volunteer-run rescue group deeply committed to saving, healing, and finding forever homes for some of the most challenged pooches in the shelter environment.
RAD works primarily with senior dogs, dogs suffering from severe medical issues and dogs requiring hospice end of life care.
All of their dogs go into the warm environment of foster homes until they find their forever homes; RAD provides its fosters and the dogs with support, medical care, and training as necessary.
One case that was definitely not normal was Momma Callie and her surprise five puppies that came happened in early October. One of her tiny puppies was a blonde beauty Terrier/Chihuahua mix named Baby Rad born October 30, 2016.
Little Baby Rad was quick to make her entrance into this world with a sweet temperament and LOVES to be held closely and tightly. Baby Rad developed at a much slower pace than her brothers and sisters so RAD Rescue scheduled a vet appointment specifically for her, to determine any long-term care needs.
The specialists believe Baby Rad has a condition called Cerebellum Hypoplasis, which is an under-developed cerebellum. Her developmental issues although irreversible, will not worsen, nor require any additional care.
Baby Rad currently lives with two large female dogs, two cats and is friends with everyone. Along with extended medical testing and specialist appointments, Baby Rad will also be spayed, microchipped and vaccinated. Her adoption fee is $250 and includes Basic Puppy Obedience training classes with The Complete Canine. Tax deductible contributions to RAD Rescue, Inc. are greatly appreciated in order to continue this level of care for dogs in need.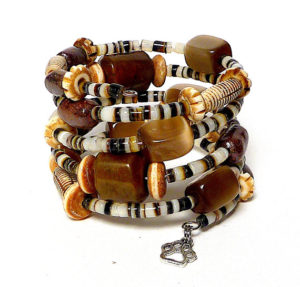 BUY BRACELETS
You can buy one-of-a-kind $20 beaded bracelets made with donated beads at:
–-Silver Sea Jewelry & Gifts, 330 N. 4th Avenue, 624-9954, meter parking until 5 PM M-F, free parking weekends
–-Clues Unlimited Mystery Book Store, 3146 E. Fort. Lowell Road, 326-8533
–-A K Jensen Apparel, (St. Philips Plaza), 4340 N. Campbell Ave., Suite 72, 529-2775
Bracelets are also available online and we ship worldwide (postage determined by destination).
You can buy bracelets (during April)
PET Club – Grant/Alvernon – Saturday, April 8 – from 11 AM to 3 PM – 3901 E Grant Rd, # 101, Tucson, Arizona 85712
Adopt Love Adopt Local – (mega adoption event) Saturday, April 15 – from 9 AM to 4 PM, 3750  E. Irvington Road. Free admission and free parking. Please leave your dogs at home.