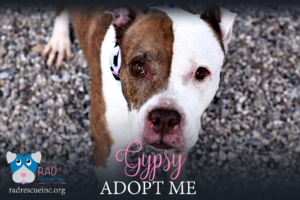 Did you know that every RAD Rescue board member has a dog with Valley Fever?
Something that RAD is passionate about is helping to educate the public on this ever-growing disease and hopefully, someday, be around for a cure or vaccine for it.
Gypsy is a stunning 5-year-old female Pit Bull mix who was pulled from Pima Animal Care Center almost a year ago in 2016 when the shelter was unable to diagnosis and treat her "neurological" issues. After RAD raised funds for a CT scan and other various tests at the Veterinary Specialty Center of Tucson (VSCOT), it was determined that Gypsy's "neurological" issues resulted from untreated Valley Fever.
Gypsy is a petite little girl weighing in at just under 50 lbs. She loves to cuddle, loves chasing those pesky lizards out of her yard, rolling around in a soft fluffy bed, and playing with/destroying squeaky toys. Although Gypsy did not come from the best environment before PACC, Gypsy is dog social, cat tolerant, and kid tested and approved! Gypsy girl is a low-key dog; she won't be hiking Mount Lemmon anytime soon, but she does enjoy a leisurely walk or short bursts of zoomies in the yard.
Gypsy quickly was dubbed the kissing booth queen when a RAD volunteer constructed an amazing kissing booth for events. Despite the constant struggles, Gypsy is faced with on a daily basis, she has nothing but love to give, smiles to share, and more kisses than you can bear. She lights up every room with her endearing charm and her never-ending tail wag.
Gypsy's Valley Fever condition has worsened and her recent lab work has shown a decline in responsiveness to her current medication (Fluconazole). The rescue has decided to change her medication to Itraconazole which costs more and focus on her health and ensure her improvement before sending her to her forever home.
Continued medications for dogs like Gypsy and long-term hospice living are key elements to what RAD Rescue focuses on. Help us continue to make lives like Gypsy's the best possible around with not only the proper amount of love and support, but also the adequate medical care needed for her continued improvement. Make a donation for much needed medical care.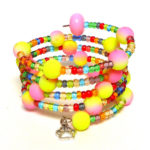 ---
RAD Rescue will be at the grand opening of the Dove Mountain Veterinary on April 22. They will have adoptable dogs and Beading Divas bracelets + giveaways and refreshments. The public is invited.
You can also buy bracelets online and around town at these venues:
–-Silver Sea Jewelry & Gifts, 330 N. 4th Avenue, 624-9954, meter parking until 5 PM M-F, free parking weekends
–-Clues Unlimited Mystery Book Store, 3146 E. Fort. Lowell Road, 326-8533
–-A K Jensen Apparel, (St. Philips Plaza), 4340 N. Campbell Ave., Suite 72, 529-2775