Written by Jett Greyhound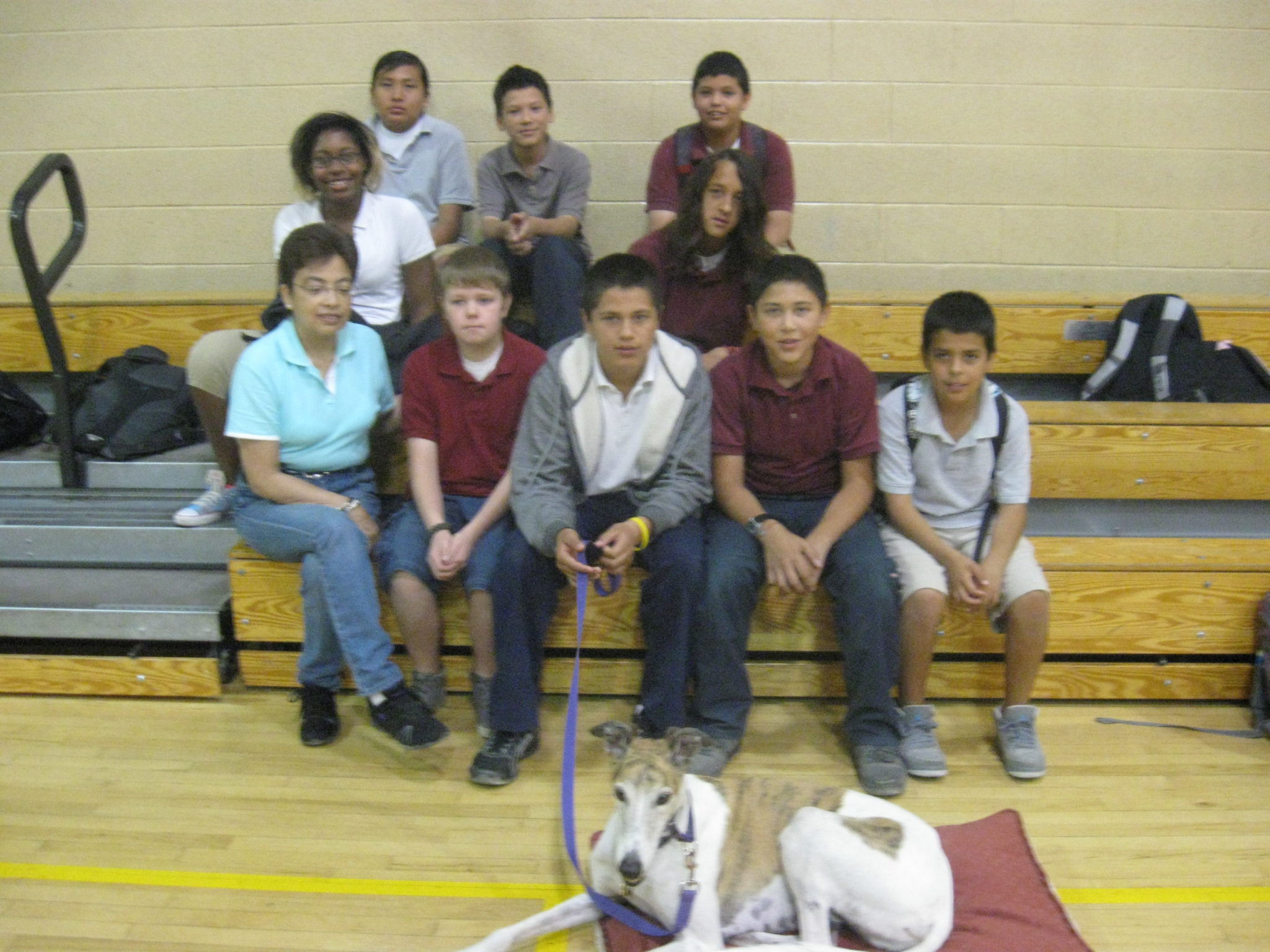 Jett Greyhound here. I went to school again on Friday. I go to middle school. I have been many times already so when I come on the grounds, the kids run up to me and say, ''HI JETT.'' I was born to be famous and not from racing around some darn track either.
                              

7th graders meet Jett greyhound



This time we met with 7th and 8th graders. I don't do stairs so they had to find a vacant room for us and this time we met in the gym. Karyn talks a bit about animal cruelty/greyhound racing and greyhound adoption and then all the kids ask questions and can have their pictures taken with me.
                                    

Checking out Jett greyhound's tattoos



After Karyn finishes talking and they ask her questions, she said, "Pretend you're 23 years old today. It's Friday night. Raise your hand if you're going to the track tonight to bet on the dogs." Nobody raises their hand. Mission accomplished.
I love those kids and they love me.
Since we were in the gym, these boys wanted to race me. Can you imagine? I left them in the dust each time. Nobody could keep up with me. We ran back and forth, over and over. I was tired but I still ran. It was so much fun.
                                   

Jett Greyhound wants kissy kissy



After the first class, I was so pooped that I laid down on my bed but I rose to the occasion and ran with the next class. As pooped as I was, I still beat them. They were hooting and hollering and cheering me on.
It was a glorious day and I made so many new friends.
I am so popular – in fact – that I go back again to do the 6th grade in a few weeks and we are maybe invited to another school to meet with first graders.
No matter where you are, remember WHAT YOU SEE IS WHAT YOU JETT