Special Note: We're using a NEW email tool, so if you receive this via email, please let us know if you have any trouble reading the content below – Thank you!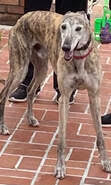 Our May/June fundraising partner is
GreySave
, a greyhound adoption and support group in Southern California. GreySave's primary mission is to rescue and adopt retired greyhounds from the Caliente Dog Racetrack in Tijuana, Mexico. Here is more about how they help older hounds:
Part of our mission is to be there for our previously adopted hounds and older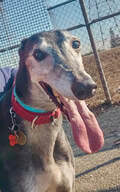 greyhounds that needed to be re-homed. In the past year, GreySave brought in several of these special older greyhounds that had lost their homes. One thing these dogs had in common was that they came to us through no fault of their own. The aging greyhounds were Jet Fire 13, Hardy 9, Sullivan 10, Remus 9, Crissy 10, and Charm 9. They came from people who had either moved, had new children, entered a nursing home, or sadly from adopters who are now deceased. GreySave takes the dogs in, no questions asked. We have been blessed by "Greyt" adopters who take them into their pack, proving the saying that there is always room for one more. In their new Forever homes, the hounds can spend the rest of their lives on a soft bed, with good food, often with another greyhound, and always with a truly loving family. Before the hounds go to live with their new family, GreySave gets them checked by a veterinarian and provides any care they might need. Some of the hounds have persistent medical issues, so they stay on GreySave's veterinary account. GreySave has been blessed to be able to support our elder "come back" hounds thanks to the generous donations from volunteers and the general public.

You can help GreySave find homes for more deserving pets like Jet Fire, Hardy, Sullivan, Remus, Crissy, and Charm by purchasing one-of-a-kind, handcrafted Beading Divas bracelets.
Cost per bracelet is $20. The bracelets make great gifts any time!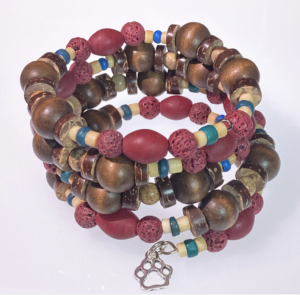 The best selection is online via Etsy but in Tucson you can also buy bracelets at Fuchsia Spa in La Encantada Shopping Center, and Silver Sea Jewelry, in the historic 4th Avenue Shopping District. Silver Sea is open Tuesday-Sunday from noon-6pm (masks and social distancing required.)