December and January bracelet sales benefit Tucson Cold Wet Noses, a 501c3 non-profit dog rescue and adoption organization. TCWN was founded by a group of local dog lovers whose goal is to rescue dogs from the local shelters (PACC, MCACC, PCACC and The Arizona Humane Society) and find them their perfect homes through successful adoptions. Their ultimate goal is to have successful adoptions, finding a perfect match between the dog and the new owner.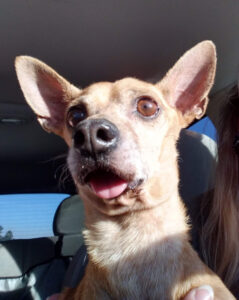 Josey was found as a stray and turned into a local shelter with a broken lower jaw, when Tucson Cold Wet Noses pulled him into our rescue. University Pet Clinic was able to get him in right away to treat his jaw, which ended up being worse than they had initially thought. Because his jaw had been broken for so long, there was so much dead bone that they had to amputate more than half of the jaw. The veterinarians had to repair skin on Josey's tiny jaw twice, because his stitches had come out. Josey was a trooper during it all! Over a seven week period, he was in a cone, being hand fed breakfast and dinner, getting multiple medications and seeing the vet many, many times. Understandably, he was pretty cranky and in the beginning. As the weeks went on and he started to heal and realize that he was safe, his personality started to come out. He became friendly and a little trusting. He even started to hang out with some of his foster siblings. He will forever eat canned food, and drool, but those are both quirks we love about Josey!
You can help deserving pets like Josey by purchasing one-of-a-kind, handcrafted Beading Divas bracelets.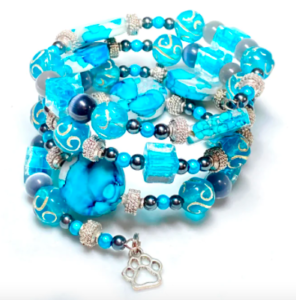 Cost per bracelet is $20, with no tax. The bracelets make great gifts any time of year!  The best selection is online via Etsy but in Tucson you can also buy bracelets at Fuchsia Spa in La Encantada Shopping Center and Silver Sea Jewelry, in the historic 4th Avenue Shopping District. Silver Sea is open Tuesday-Sunday from noon-6pm (masks and social distancing required.)