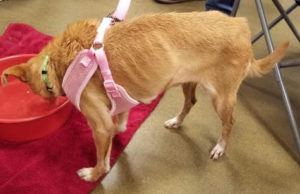 April and May bracelet sales benefit Cherished Tails Senior Sanctuary in Marana, AZ. Cherished Tails rescues senior dogs and cats at high risk. Pets are given sanctuary until they find a forever home or hospice care for the unadoptable.  Cherished Tails is a 501(3), all volunteer, foster based rescue group. More information and adoptable pets can be seen on their website https://cherishedtails.weebly.com/
Annie came to Cherished Tails from an El Paso shelter. She is a "youngster" for us at only 6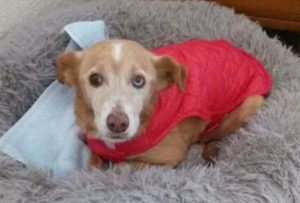 years old, but she had advanced heartworm disease that was affecting her kidneys, so she had the organs of an "older dog". It was touch and go to see if Annie would survive heartworm treatment. She was extremely emaciated and sickly when she arrived, with coughing just racking her poor little body. Her foster family wrapped her in love and day by day she began to get stronger. The injections were very hard on Annie and she was clearly in pain, but we promised her that life was going to get better. She is 2 months post treatment and still testing positive BUT she has gained several pounds and is active and happy – a completely different dog that the one we initially met.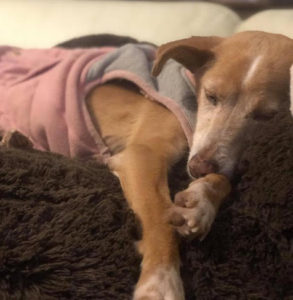 Recently Annie moved to a foster-to-adopt home as we await more testing in hopes that we get good news that she is heartworm free. Her new family is willing to see it through if she does need further treatment. Annie deserved a second chance at life and health and we're glad that we were able to help her. Now she has a real home where she'll be cherished for the special spirit and little survivor that she is…and the best is yet to come!
You can help deserving senior pets like Annie by purchasing one-of-a-kind, handcrafted Beading Divas bracelets.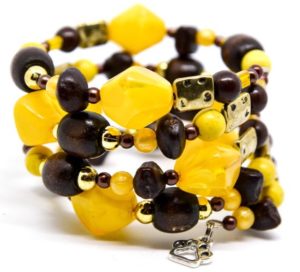 Cost per bracelet is $20, with no tax. The bracelets make great gifts any time of year!  The best selection is online via Etsy but in Tucson you can also buy bracelets at Fuchsia Spa in La Encantada Shopping Center and Silver Sea Jewelry, in the historic 4th Avenue Shopping District. Silver Sea is open on Thursdays by appointment only (call or send a private message via Facebook), Friday and Saturday from noon to 6 pm (masks and social distancing required) and Sundays for live online shopping starting at 4 pm (MST). Bracelets are not for sale during live online shopping, but other fabulous jewelry is available.