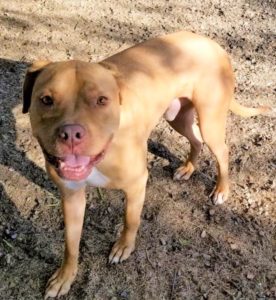 Beading Divas is excited to welcome LOVAR (Lifeline Oro Valley Animal Rescue) as our fundraising partner for October and November. During these months you will learn about how far they go to save lives.
There are few things more heartbreaking then seeing a dog that is in such a deprived condition.
PACC called us and we rushed to help. Ben's body condition score was 2 out of 9. His vertebrae, pelvic bones, lumbar ribs were all visible with no palatable fat and his head was sunken in. He was able to walk but was very weak.
Despite this, he had nothing but love in those soulful eyes and was just as gentle and sweet natured as could be, but he also had a sadness about him. We were determined to do whatever it took and as long as needed to restore his health, as well as his spirit.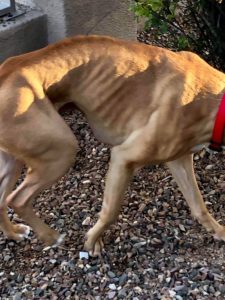 Ben received round the clock care and enjoyed being pampered. He would curl up with his blanket and favorite stuffed toy and started to feel better. Over the past six months since under Lovar's care, he reached optimal weight, his skin is healthy, and his coat like velvet.
He loves exploring in the garden looking like Scooby-Doo, and playing with canine friends but his favorite thing in the world is still cuddling up next to you under his blanket and with his little toy friend Moose.
Ben is one of many dogs Lovar has saved from situations of neglect, hoarding and puppy mills. Their recovery plan is often different and sometimes they have behavioral challenges requiring much devotion, medical care and specialized dietary needs.
You can support Ben and others like him by buying Beading Divas bracelets for yourself, a friend or family member or just to let someone know you care during these difficult times. It's a plus for dog lovers who realize a Beading Divas bracelet directly impacts animals in a positive way.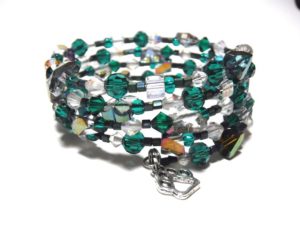 Bracelets are one-of-a-kind, handcrafted by creative volunteers. Every bracelet comes with a paw charm to commemorate our mission. Bracelets cost $20/no tax.  The best selection is online via Etsy.
Locally, you can buy bracelets at:
NEW LOCATION Fuchsia Spa in La Encantada on the northwest corner of Campbell & Skyline, 2905 E. Skyline Dr, #129. Cash only.
*A limited number of bracelets are still available at our favorite bookstore Clues Unlimited which is open Monday – Thursday from 10 am to 2 pm (call to doublecheck hours/days). Curbside pickup is available during these times and browsing will be limited to appointment only. Cash only.
Currently, Silver Sea Jewelry, the original home of Beading Divas bracelets, is now still closed because of the covid outbreak but follow on Facebook for their Sunday online shopping network.