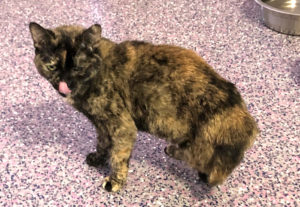 Cassidy is a beautiful tortoise shell cat who is a long-time resident at PAWSitively Cats No-Kill Shelter. Cassidy was born as a feral kitten with a deformed leg. She was rescued from the desert and brought to the shelter with her permanent limp. Having only three good legs doesn't stop her from hopping about for kitty treats.
Volunteers have tried to get Cassidy to accept some head scratches, but only one person has been able to touch Cassidy while she's munching treats. Cassidy seems to know her name, and recognizes people who have brought treats. Over the years she is less feral but still wary. Still, she is a shelter favorite who has a few sponsors.
Would you like to sponsor Cassidy or one of her pals? 
BUY BRACELETS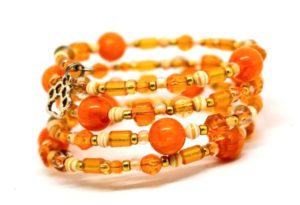 Bracelets cost $20/no tax. The best selection is online via Etsy.
Locally, you can buy bracelets at:
NEW LOCATION Fuchsia Spa in the La Encantada on the northwest corner of Campbell & Skyline, 2905 E. Skyline Dr, #129. Cash only.
Pawsitively Cats No-Kill Shelter (on Saturdays only 10 AM to 3 PM), masks required. Location: 1145 N. Woodland Ave. (north of Speedway, one block west of Craycroft, just north of the Wendy's.)
*A limited number of bracelets are still available at our favorite bookstore Clues Unlimited which is open Monday – Thursday from 10 am to 2 pm (call to doublecheck hours/days). Curbside pickup is available during these times and browsing will be limited to appointment only.