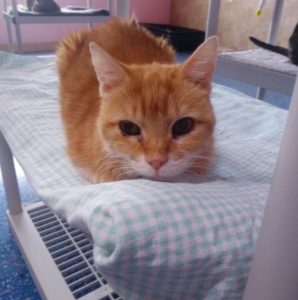 Kirby and his brother Ray spent some time living with a homeless person, so while they were loved, they didn't get any veterinary care for years. Eventually they were surrendered to Pima Animal Care Center where they received full dental treatments. Kirby and Ray came to live with a foster mom, and eventually wound up at PAWSitively CATS No-Kill Shelter. Ray went to live in a group home with a few senior ladies who adore him.
Kirby remains at the shelter and has some significant health issues, including chronic asthma and gastrointestinal lymphoma, both of which are being treated with medications. Kirby is a sweet boy who will be taken care of for the rest of his days by the dedicated staff and volunteers of PAWSitively Cats.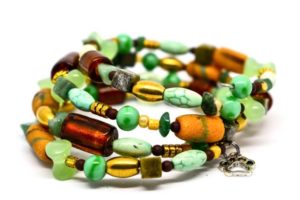 One of a kind handcrafted beaded bracelets cost $20/no tax. All come with a dangling paw charm and are made with plenty of love. Currently, you can buy bracelets online or at the PAWSitively Cats shelter on Saturdays and at Clues Unlimited mystery bookstore / call for hours.                                  .