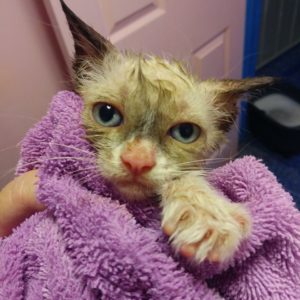 Beading Divas are excited to invite PAWSitively Cats No-Kill Shelter to be our fundraising partner for August and September. PC promotes compassionate care for homeless cats in Tucson and finds loving permanent homes for these cats; promotes Trap, Neuter and Return (TNR) for feral cats; and educates the public regarding spay/neuter and responsible pet ownership.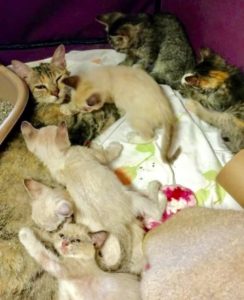 THE CACTUS CATS: Petite mama cat Eva and her six babies were rescued from under a trailer in the Picture Rocks area. These poor kitties were covered in cactus spines and fleas. After being given baths, the volunteer who rescued them could see that some of the kittens had eye infections and that Eva had an abscess near her jaw, possibly from a cactus spine.
Once they went to see a veterinarian, they were diagnosed with ringworm too. If this wasn't enough, mama Eva developed a urinary tract infection! They are being treated with anti-fungal baths and Eva is receiving medication. When everyone is all better, they will be tested for Feline Leukemia, vaccinated, and if all goes well, placed for adoption.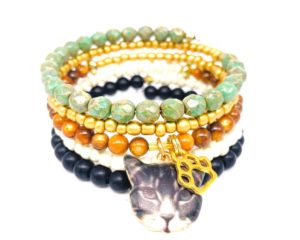 BUY BRACELETS: Because of Covid-19 bracelets are now mostly available online via Etsy and limited locally.* (This could change as restrictions are lifted). Bracelets are one-of-a-kind and cost $20; 90% or $18 of every online sale benefits PAWSitively Cats during the months of August and September. Best of all bracelets can be shipped worldwide and make great gifts for animal lovers.
*A limited number of bracelets are still available at our favorite bookstore Clues Unlimited which is open Monday – Thursday from 10 am to 2 pm. Curbside pickup is available during these times and browsing will be limited to appointment only.
*PAWSitively Cats also has a generous selection of bracelets for sale at their shelter located at 1145 N. Woodland Ave. (north of Speedway, one block west of Craycroft, just north of the Wendy's.) ON SATURDAYS ONLY from 10 am to 3 pm. Please wear a mask.