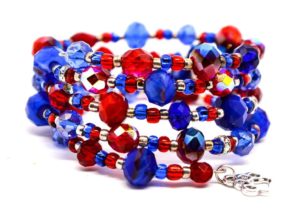 Hey UA Wildcat fans – this bracelet is for YOU. Go team! Its sale and dozens more benefits Green Valley Paws Patrol (more cats) during August.
All bracelets are handcrafted by volunteers, one-of-a-kind and made with donated beads. Bracelets cost $20, no tax. Paws Patrol receives $20 for every bracelet they sell person to person and $18 for every bracelet sold online. Postage is based on destination. Bracelets are mailed worldwide.
Paws Patrol mission is to:
Reduce community cat overpopulation (feral/stray/free-roaming) through Trap/Neuter/Return (TNR) in order to create a healthier environment for our communities.
Educate the public on the importance of spay/neuter for companion animals.
Rescue, foster, and re-home adoptable pets.
If you like the bracelet, buy it – one of a kind — when the bracelet sells, it's gone. We cannot duplicate or recreate.
From the Feedback File: "Very pretty and for a good cause." ~  Mary M.