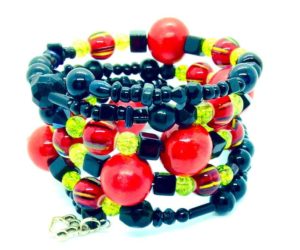 Do you have a traveling spirit? Someone who enjoys globetrotting around the Mediterranean whether for real or in your imagination? Si? Then, this bracelet – Majorca Magic – is for you, a confident woman with a sense of adventure. .
For June, Beading Divas bracelet sales benefit Desert Harbor Doberman Rescue of Arizona, an all-volunteer no-kill rescue committed to forever placements, and do their best to ensure the DHDR dog you take home is suited to your lifestyle.
All bracelets are handcrafted, one-of-a-kind and made with donated beads. Bracelets cost $20, no tax. DHDR receives $20 for every bracelet they sell person to person and $18 for every bracelet sold online. Postage is based on destination. Bracelets are mailed worldwide.
If you like it, buy it – one of a kind — when the bracelet sells, it's gone. We cannot duplicate or recreate.
In Tucson, you can buy bracelets at Silver Sea Jewelry and Clues Unlimited Mystery Bookstore and Nadine's Desert Fashions in Oro Valley.
From the Feedback File: "I love these bracelets, they are so gorgeous and I love that they donate 90% to animal nonprofits!" ~  JCL