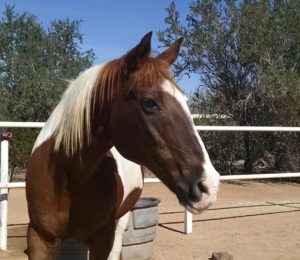 The summer of 2016 Zen Donkey Sanctuary accepted an abandoned horse that was found wandering aimlessly in the Southern Arizona desert, a scenario all too familiar to equine rescues.
Sandy said, "Casting my eyes upon this animal for the first time I felt as if my heart was being pierced by a burning arrow. What I saw was devastatingly painful." This broken animal was covered in matted filth from head to toe; dehydrated; grossly underweight with every rib visible; and worst of all, of his feet were the size of snowshoes. Chronic thrush and laminitis contributed to his profound lameness. This animal was clearly in pain from head to toe.
His markings were those of a paint thus the name Picasso. A fitting name for a once proud soul.
A serious rehabilitative treatment protocol was established with both veterinarian and farrier making significant contributions. Daily major anti-inflammatory medications and bi-monthly farrier visits for hoof trimming and special orthotic shoes were prescribed and continue to this day. Picasso also remains on a highly specialized diet which has helped significantly with his overall restoration.
As time marched on this gentle and soulful creature was blossoming and opening up like a beautiful lotus flower right before our eyes. The physical changes were obvious but more impressive was his improved mental state and general disposition. He came to us sullen, expressionless and void of emotion, utterly defeated.
It will soon be three years since Picasso came to Zen Donkey Sanctuary and in this time his transformation has been like none that Sandy has witnessed in all of her years living with equines.
This once downtrodden and cast away animal is now expressing himself with boldness and confidence. His voice is heard by all as he now knickers, whinnies and prances about with head held high and a strong sound of joy in his heart.
The transformation of Picasso is yet another example of true rescue and dedicated rehabilitation efforts. It is through generous donations made by individuals like you that make Zen Donkey Sanctuary's work possible. Thank you for caring.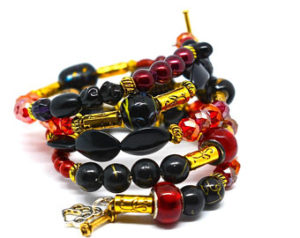 BUY BRACELETS 
Buy one-of-a-kind beaded bracelets made by creative volunteers. Dozens of choices online. One size fits many.  During its 10 year history, Beading Divas to the Rescue has raised more than $206,000 for animal charities. Help us help Zen Donkey Sanctuary raise funds now. If you don't want any bracelets, consider sponsoring an animal.