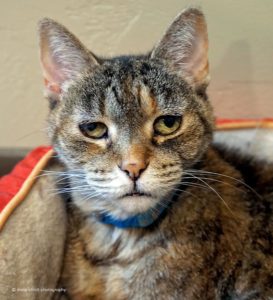 Dottie – 11 year old female – at The Hermitage since 3/31/18
Rescued from a hoarding situation, Dottie hasn't had the easiest path in life. And despite that history, Dottie is a truly loving girl. She was originally placed in our Senior Room, but her daredevil tendencies often got her in trouble on the catwalks. Dottie is now happily loving life in our Administrative Office. And she takes her new assignment as Office Kitty very seriously! Dottie makes her rounds a couple of times a day, checking up on our staff & making sure they are staying on task.
Dottie warms up quickly to visitors and enjoys getting love and affection. Her ability to trust and love humans is a testament to the heart of this survivor. Dottie deserves a loving home where she can spend her golden years being pampered and adored. Check in with our admin staff to meet this spunky lady. The Hermitage will make sure her busy schedule is cleared to meet her forever soulmate.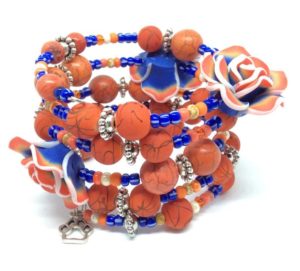 Dottie hopes you buy some beautiful one-of-a-kind handcrafted bracelets during this purrfecto March fundraiser.  Bracelets are available at The Hermitage during March too.
Buy bracelets at:
–-Silver Sea Jewelry & Gifts, 330 N. 4th Avenue, 520-624-9954, meter parking until 5 PM M-F, free parking weekends
–-Clues Unlimited Mystery Book Store, 3146 E. Fort. Lowell Road, 520-326-8533 (closed Mon-Tues)
— Nadine's Desert Fashions, 11931 N. 1st Ave., suite 141, Oro Valley, 520-797-4200
Buy bracelets online; they are shipped worldwide via Etsy (large selection); postage is based on destination.