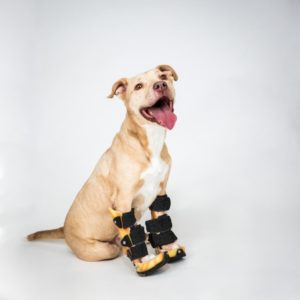 For December Beading Divas to the Rescue is excited to be fundraising for: Save-A-Bull Rescue is a Tucson based organization that is dedicated to the rescue and rehabilitation of pit-bull type dogs. People reading this play an important role in the work Save-A-Bull does — by helping dogs others have given up on.
MEET ADDIE
Adeline came to Save-A-Bull Rescue as a stray. She suffered from an untreated condition called Immune Mediated Polyarthritis which affected her front limbs. The condition had progressed to such an extent that her carpal joints had completely deteriorated and she had resorted to crawling as it was too painful to walk.
Addie was deemed a non-surgical candidate and it was determined that the only chance she had at a pain free and mobile life was to be fitted with front leg braces, which would help to hold her legs in a natural position. The day Addie took her first steps in her braces, there wasn't a dry eye in the room. It was the first time in years Addie was able to walk and finally run!
Addie's resiliency is an inspiration to us all. Despite everything she had endured Addie's sweet demeanor was present through it all. Addie is still waiting for a happy ending to her incredible journey and is searching for her forever home.
If interested in adopting this incredible girl, please visit: https://saveabullaz.org/adopt/
Handcrafted by creative volunteers, one-of-a-kind bracelets cost $20/no tax. Eighteen dollars goes to Save-a-Bull Rescue. You can buy bracelets at these local Tucson venues:
–-Silver Sea Jewelry & Gifts, 330 N. 4th Avenue, 520-624-9954, meter parking until 5 PM M-F, free parking weekends
–-Clues Unlimited Mystery Book Store, 3146 E. Fort. Lowell Road, 520-326-8533 (closed Mon-Tues)
–NEW — Nadine's Desert Fashions, 11931 N. 1st Ave., suite 141, Oro Valley, 520-797-4200
–FOR DECEMBER ONLY – A Loyal Companion, 4758 E. Grant Road, 520-448-3548
Buy bracelets online; they are shipped worldwide via Etsy (large selection); postage is based on destination.
On Instagram – @beadingdivasbracelets