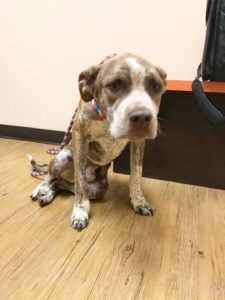 Here's a hard luck hounds story with a happy ending.
Meet Pluto — Pluto ended up on the December 7th euthanasia-list at Pinal County Animal Control because he was very ill and the shelter doesn't have a vet. HLH was able to find a foster at the last minute and Pluto transported to Tucson by an awesome volunteer.
He was so sick that he was taken straight to the vet. He was weak, underweight, not eating or drinking much and had some joint deformities. Pluto was diagnosed with Valley Fever in his bones but that was only part of his health problems. It turned out he had a terrible case of tapeworms and his digestive system was so inflamed that he would throw up when he tried to eat and drink. He couldn't even keep his VF medicines down.
Pluto ended up going home with the rescue's director for 24-hour care. For several days he had to be given fluids and small amounts of food with a syringe. During that time, he didn't move from his bed and had to be carried outside to go to the bathroom.
We weren't sure he was going to make it.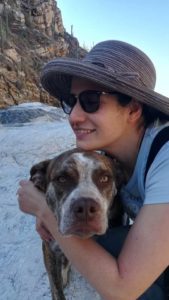 Finally, he was able to pass all of the tapeworms and began to develop an appetite. He started to gain strength and a playful personality emerged. After a month, Pluto was strong enough to go to his new foster home. He is an absolute sweetheart with people and other dogs and he has learned lots of commands from his foster Mom. In fact, he turned into such a great companion she has decided to give him a forever home!
Vet care costs money. This is one example how a wonderful dog thrived from dedicated caring. This is Hard Luck Hounds.
BUY BRACELETS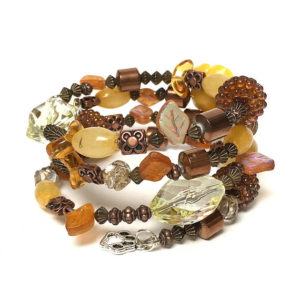 You can help Hard Luck Hounds by buying some bracelets or making a direct donation to their cause. Bracelets are one of a kind, come with a dangling paw charm and cost $20. Eighteen dollars of which go to the charities. You can buy bracelets at these local venues:
–-Silver Sea Jewelry & Gifts, 330 N. 4th Avenue, 520-624-9954, meter parking until 5 PM M-F, free parking weekends
–-Clues Unlimited Mystery Book Store, 3146 E. Fort. Lowell Road, 520-326-8533 (closed Mon-Tues)
You can also buy bracelets online. We ship worldwide. Postage is based on destination.