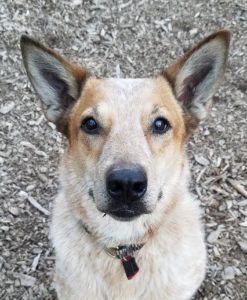 Chase came to Arizona Cattle Dog Rescue through a Good Samaritan who found him in the Tucson desert. He was truly on death's door! He had sarcoptic and demodex mange, dozens of other internal and external parasites, was extremely emaciated and on top of it all he was diabetic.
But his spirit was still intact, he quickly stole our hearts.
After 18 months of care Chase is now ready for adoption. Chase is fondly called "Mr. Rodgers" in his foster home as he is kind and gentle and it's his mission to make sure everyone is happy and gets along. He is the first to make friends with any new foster that comes in. He will always be diabetic but the rest of his past is long behind. His future is as bright as his smile.
BUY BRACELETS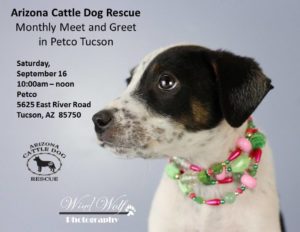 You can support ACDR by making a direct donation or buying a one-of-a-kind bracelet or two made with donated beads. Bracelets cost $20 (no tax) and $18 of every bracelet sale benefits the dogs. Each bracelet comes with a dangling paw charm. Shipping cost is based on destination; we ship worldwide.
In Tucson, you can buy bracelets at:
.–-Silver Sea Jewelry & Gifts, 330 N. 4th Avenue, 520-624-9954, meter parking until 5 PM M-F, free parking weekends
–-Clues Unlimited Mystery Book Store, 3146 E. Fort. Lowell Road, 520-326-8533 (closed Mon-Tues)