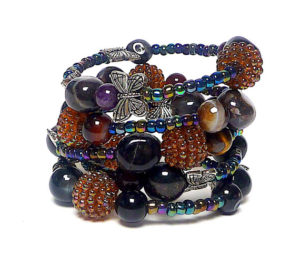 This bracelet is called "Look-a-Like Buddy." Yes, we name all our bracelets but why this dazzler has that name will forever be a mystery. Mysterious women rock. This "buddy" would look awesome on your wrist.
All bracelets are hand-crafted, one-of-a-kind and come with a dangling paw charm to commemorate our mission of helping animals. Each bracelet costs $20 (no tax). Shipping cost is based on destination.
For the month of November, bracelet sales benefit Asavet Charities, a brand new mobile vet unit that rolls into under-served areas and regions  in need of free spay and neuter in Arizona and New Mexico. Asavet also hosted the MASH (marathon free spay/neuter event) here on the southside of Tucson for two years in a row.
From the Online Etsy Bracelet Feedback File: "I ordered 3 bracelets all are beautiful and well made. My order arrived within 3 days. These ladies provide a wonderful service for animal rescue. Love, love them."