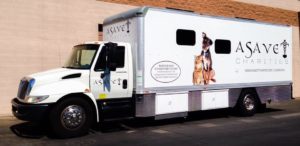 For the month of November, Beading Divas to the Rescue is excited to be fundraising for the Tucson-based Asavet Charities, a fully-equipped mobile veterinary unit providing free spay and neuter to under-served communities in Arizona and New Mexico.
During the month of October, Asavet altered more than 600 cats and dogs which included their three-day MASH event + spaying and neutering in South Tucson, Three Points and beyond.
All services are performed by volunteers – volunteer veterinarians, vet techs and dedicated people who want to help improve the lives of pets.
You will learn more about them as the month progresses but in the meantime consider buying a bracelet or two. The gift giving season is around the corner.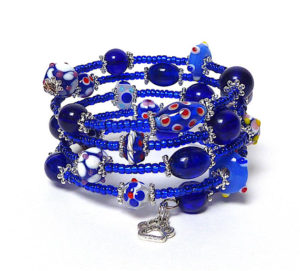 Bracelets are one-of-a-kind, $20, made with donated beads (hint) and come with a paw charm. One size fits most. You can read our reviews here.
Locally in Tucson you can buy bracelets at these stores:
–-Silver Sea Jewelry & Gifts, 330 N. 4th Avenue, 624-9954, meter parking until 5 PM M-F
–-Clues Unlimited Mystery Book Store, 3146 E. Fort. Lowell Road, 326-8533
–-A K Jensen Apparel, (St. Philips Plaza), 4340 N. Campbell Ave., Suite 72, 529-2775
Please note that SpaDaze on Oracle will no longer be selling bracelets but we greatly thank them for partnering with us this year.
 There is a large selection of bracelets online, postage is based on destination. We ship worldwide, but not to Canada at this time.