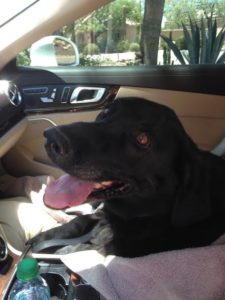 Axel was left behind in a Phoenix backyard without water, food or shade when his family moved. (What were they thinking?) Shortly after coming to Forever Loved Pet Sanctuary, a severe infection began brewing in one of his front legs which required a couple of days of 24/7 care, but luckily he pulled through after thorough cleanings of the infected area.
When well enough Axel was placed in foster care where he blossomed as an all-around good boy with people and other dogs.
Buy Beading Divas bracelets online
Lucky boy, at 7 ½ he got adopted and now lives with a shy Labrador named Rachel who has since blossomed in his company. She showed him around the yard and shared her toys with him. The adopters asked all the right questions. Axel now lives on a golf course overlooking a lake and has a work-from-home dad.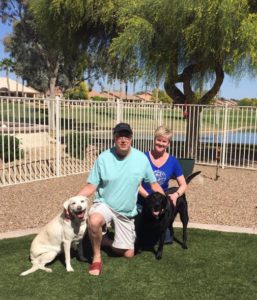 Axel's fate went from bad to good with his caring foster family and to his adopters who say they will always be there for him.
Don't you just love a happy ending? Forever Loved Pet Sanctuary sure does. Whether dogs stay in forever foster homes or find the right adopters, FLPS makes it all happen.
Now about those one-of-a-kind fundraising bracelets…
Buy bracelets online (shipping based on destination). 90% of bracelet sales ($18 out of $20) go directly to FLPS. We ship worldwide except Canada for now because of the postal problems.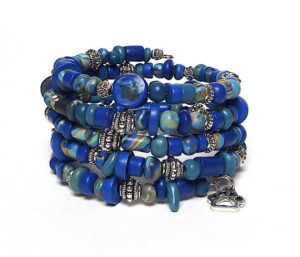 In Tucson you can find bracelets here:
–-Silver Sea Jewelry & Gifts, 330 N. 4th Avenue, 624-9954, meter parking until 5 PM M-F
–-Clues Unlimited Mystery Book Store, 3146 E. Fort. Lowell Road, 326-8533
–-A K Jensen Apparel, (St. Philips Plaza), 4340 N. Campbell Ave., Suite 72, 529-2775
–-Spa Daze, 6812 N. Oracle Road, #100, 334-1919
You can also donate directly to FLPS.