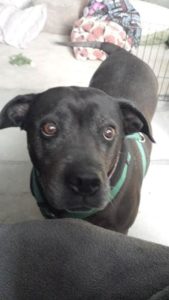 For September, Beading Divas to the Rescue is excited to be fundraising for Forever Loved Pet Sanctuary which is a small Scottsdale-based 501c3 organization dedicated to the promotion, rescuing, adopting, educating and well-being of senior animals. Animals who don't get adopted are forever fosters.
Willow
Willow was dumped with another dog at Pinal County Animal Control when her owners moved. She became very sad after her companion was adopted without her.
This senior Sharpei Pitbull mix seemed to have been well fed and so she was put on a diet to slim down to svelt 60-ish pounds at the Sanctuary.  She's a total belly-rub lover, enjoys going for walks, and just wants to be near people large and small. Willow does however like to be the queen of her castle and really — who doesn't. Willow has been working on basic training and being a quick learner, she seemed bored.
Willow spent 837 days with Forever Loved Pets waiting for a loving family to notice her.
Finally, that day arrived and now she has her very own family's undivided attention plus a home with a big back yard full of grass. She occasionally goes to work with her adopter and Willow is much loved by the coworkers as well. Life is good.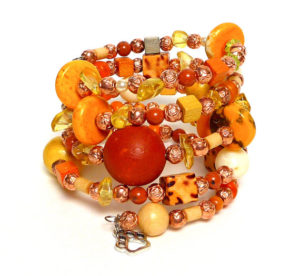 Buy Bracelets! The Beading Divas have a soft spot for senior dogs. We hope you buy some one-of-a-kind handcrafted bracelets made with donated beads and a dangling paw charm. Bracelets make great gifts. All bracelets cost $20 (no tax) and $18 or 90% is donated to Forever Loved Pet Sanctuary. Shipping & handling is based on destination.
In Tucson you can buy bracelets at these fabulous venues:
–-Silver Sea Jewelry & Gifts, 330 N. 4th Avenue, 624-9954, meter parking until 5 PM M-F
–-Clues Unlimited Mystery Book Store, 3146 E. Fort. Lowell Road, 326-8533
–-A K Jensen Apparel, (St. Philips Plaza), 4340 N. Campbell Ave., Suite 72, 529-2775
–-Spa Daze, 6812 N. Oracle Road, #100, 334-1919
You can also donate directly to FLPS.