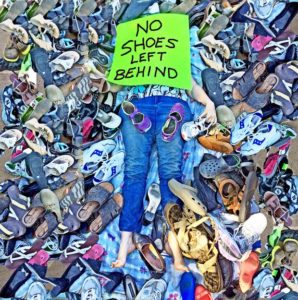 Help adoptable hounds raise $1,000 thru a fundraising initiative with Funds2Org and Wooftrax Shoes for Shelters.
Southern Arizona Greyhound Adoption needs 25 more bags of shoes (625 pairs of shoes) to make their 2,500 pairs goal.
People are happy to give shoes.  Start now by SHARING this message with SIX of your friends.
Do you have connections to UA dorms, fraternities and sororities, little league teams, your kid's classes, Girl Scouts and Boy Scouts, church groups, book & gardening clubs, your HOA or apartment complex, fitness and yoga classes, gyms, yard sales, golfing buddies…wherever groups of people gather? You get the idea…reach far and wide.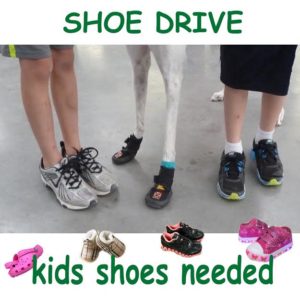 Email volunteer@sagreyhoundadoption.org to arrange pickup or
Drop off at:
East Side –      Briarcrest Veterinary Care Center, 7313 E Tanque Verde Rd
Oro Valley  –   Cañada Hills Animal Hospital, 10590 N La Cañada Dr.
 UA – Bentley's House of Coffee & Tea, 1730 E. Speedway Blvd.
Central   –       Birdhouse Yarns, 2540 E. 6th Street
Central  –        Dirty Dawgs Self-Serve Dog Wash, 3055 N. Campbell Ave #133 
 Ft. Lowell  – Ignite Fitness, 2951 N. Swan Road, #101
 Updated: The Shoe Drive ends May 15.

Thank you!
Beading Divas to the Rescue have a special place in our hearts for greyhounds because we have all been greyhound adopters in the past and present.