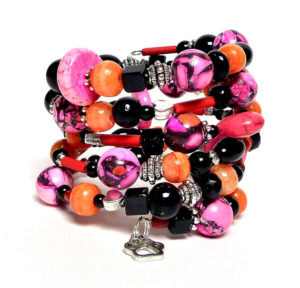 This eye-popping bracelet called "Far Out" is guaranteed to make you wish you didn't give away your bell bottoms. Put on some Jimi Hendrix and let it take you higher and kiss the sky.
All bracelets are hand-crafted, one-of-a-kind and come with a dangling paw charm to commemorate our mission of helping animals. Each bracelet costs $20 (no tax). Shipping cost is based on destination.
For the month of May, bracelet sales benefit Angel's Cat Sanctuary in Tucson.
From the Feedback File: "Beautiful! As described. Shipped reasonably."