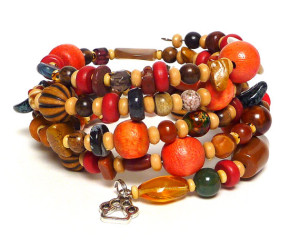 This vibrant bracelet on Etsy is called Terra Cotta. The colors reflect the fiery skies and hills around the Grand Canyon.
All bracelets are hand-crafted, one-of-a-kind with a dangling paw charm. Each bracelet costs $20 (no tax). Shipping cost is based on destination.
For the month of March, bracelet sales benefit the Greyhound Gang.
From the Feedback File: "I love these bracelets! So unique and that the proceeds help animal shelters makes them even better. The paw charm is a great touch!"