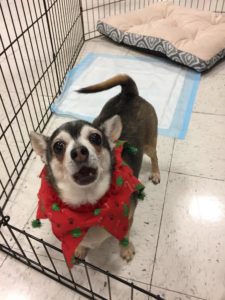 Claws and Paws Rescue is a Tucson non-profit, no-kill, foster-based rescue dedicated to eliminating euthanasia as means to population control at high-kill shelters.  You'll learn more about their good deeds as the month progresses.
Meet Bandit
Bandit is a 10-year-old Chihuahua mix.  Claws and Paws was notified when his human mommy of 10 years was in hospice.  A Claws & Paws volunteer went to the apartment where Bandit had been staying in a puppy pen, alone most of the time.
Claws and Paws immediately took him to the vet for an exam and vaccines. During the exam, the vet noticed that most of his remaining teeth were completely rotten so a dental cleaning and extractions happened.  He was very shy and heartbroken at first but now he is a happy little guy who loves to go on slow walks and really loves to snack on broiled chicken.  He is currently waiting for his forever home.  Adopt Bandit!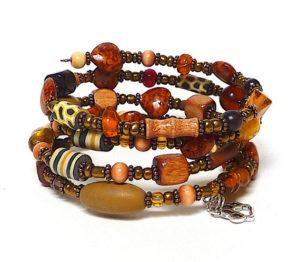 Bracelet Fundraiser
Beading Divas bracelets are one-of-a-kind, made with donated beads and come with a dangling paw charm. One size fits most. All bracelets cost $20 and 90% of every sale ($18) goes to Claws and Paws Rescue. You can buy bracelets around Tucson at:
–-Silver Sea Jewelry & Gifts, 330 N. 4th Avenue, 624-9954, meter parking until 5 PM M-F, free parking weekends
–-Clues Unlimited Mystery Book Store, 3146 E. Fort. Lowell Road, 326-8533 (reopens Jan. 11)
–-A K Jensen Apparel, (St. Philips Plaza), 4340 N. Campbell Ave., Suite 72, 529-2775
We have a large bracelet selection online too and ship worldwide.