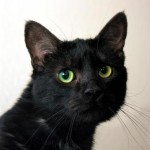 Meet TAZ
Domestic Short Hair • Adult • Male (2 years old)
Taz is a very independent young male with a dominant personality and the most gorgeous green eyes. Actor Paul Newman had gorgeous blue eyes. Taz is the Paul Newman of cats with his gorgeous eyes.
He likes to play and talk with his people. He is a lover…loves to rub his face up against your hands and legs. His soft black coat is white underneath.
Did you know black cats are 50% less likely to be adopted than other cats? There is really no difference between a black cat and other cats except black cats have been associated with bad luck and witchcraft, resulting in them being harder to adopt. Help us break this cycle, adopt a black cat and find love. Adopt Taz, razzamaTAZ.
BLING!
Beading Divas to the Rescue continues the bracelet fundraiser all month for Tucson 2 Tails, a local foster-based cat rescue. Follow T2T on Facebook to find out what kitties are looking for homes.
Check out these fabulous one-of-a-kind handcrafted bracelets with paw charm. Your purchases help to raise funds for these cats.